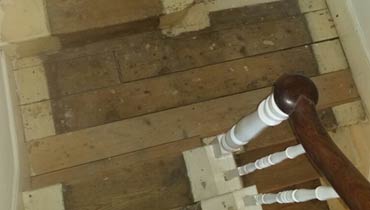 Does this seems familiar to you – you go on a midnight adventure to the refrigerator with that leftover piece of chocolate cake you have toss and turn over the whole night in your dreams. You jump over higgledy-piggledy toys your kids leaved all over the hallway, almost tread on your cat's tail and you are closer than ever, only few stairs distance from your cherished goal and all of the sudden … squeak! Oops, squeaky stairs kill your mission! There is no more need to live with noisy and damaged stairs. If you hate the way your staircase looks, if you hate the sound it produces, if you want to breathe some new life to it, we can help you with our repair services specially tailored for staircase.
The most common problems with staircases are squeaks and loose stairs or broken parts. We provide further information on how we can fix these issues by simple but effective and proven staircase repair service in London and surrounding areas. Most staircases in older London homes have these noisy steps, caused by the wood which has dried and shrunk for years. Now, squeaky stairs is something you can live with, but do you know that the dry wood can easily destroy and cause cracks, loose and even missing planks. You will end up desperately needing staircase floor repair service and if you already are at that point when you want to prevent possible major damages, call us on 0800 0434359 or 020 88309782 for London both domestic and commercial projects.
Depending on your staircase style, if it is open or not, if it has risers and banisters or not, or you have box stairs there are a couple of repair approaches we can start with. This means your staircase can be fixed from below or above. Fixing your stairs from below is better, but for some reason this isn't possible, we always can find another innovative ways and guarantee best results. Don't worry, we pay attention to individual condition of the staircase and what it needs and offer free estimate in London area to have a closer look, find your problem and think of the perfect solution. We never put the staircase renovation project on risk by using poorly products and equipment.
Another staircase issues can be worn and dull wooden surface and unlevelled stairs. Depending on the type of lumber material used (most common for London houses staircases have hardwood flooring), we can sand, stain and refinish antique looking stairways. Don't forget, that the stairway isn't just interior detail, but a focal point of your house and you want it impressive. Sanding is part of our staircase floor repair service and with this procedure we create even and smooth surface for upcoming refinishing and staining. By adding coats of stain or colored varnish and protective layers above we ensure not only long term staircase beauty but also durability.
Served Areas
City of London, Westminster
Barking and Dagenham, Havering, Newham, Tower Hamlets
Hackney, Redbridge, Waltham Forest
Barnet, Enfield, Haringey, Islington
Bexley, Bromley, Greenwich, Lewisham, Southwark
Kingston upon Thames, Merton, Richmond upon Thames, Wandsworth
Ealing, Hammersmith and Fulham, Hillingdon, Hounslow, Kensington and Chelsea