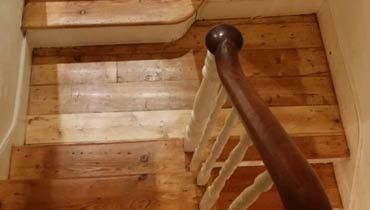 Stairways are no longer just functional and the connection between different levels of a building. Stairs are already important part of interior design of every house, sometimes focal point and the first thing visitors see. Stairways can be used to express your own unique style and there are so many options nowadays, so it can be kind of disturbing and confusing what to choose for your home. Domestic and commercial architecture in London is practically bound with stairs like a main part of a building plan the same way as wooden floors are. Can you imagine house in London without these two components? Hardly. In this line of thought, solid hardwood stairs and banisters also need maintenance just like wood floors do. They can also be worn, look dull and need refresh. We are a leader on wood flooring market in London, the same way we do our job when it comes to stairs and banisters sanding.
Stair installation and types varies widely. You may be covering existing stairs, or you may be covering stairs, that consist only of a subfloor. The solid wood timber stairs can be structured differently – with one on two open sides, or no open sides at all. Main composition of stairs consist of the tread (the part of the stairway that is stepped on, thick as any other flooring) and riser (the vertical plank between each tread on the stair). Except an eccentric designed staircases, another stairs component are banisters (system of railings and balusters, which prevents people from falling over the edge). Once you know all wooden components of stairways, you can make a plan for renewal and refreshment just like any other type of flooring. It all starts with stairs sanding.
Since stairs and banisters sanding is pretty delicate and tricky job because of the small and curvy or angular areas, you should definitely count on experts. Flooring Services London is your best option in the area. We substitute big, heavy-duty equipment with dainty small sanding tools (orbital sanders) and a lot of work, done by hand. Our goal is to remove any imperfections and create smooth, uniform surface. It's the only way solid wood timber will take on next layers of stain, clear varnish or oil. We will complete the whole stairs project by layering treads and risers with extremely hard wearing wood floor sealants, since stairs are usually a point of high traffic. Call our customer support for free estimate in London.
Stairs and banisters sanding consist of working on railings and balusters also. Banisters are important component of the whole stairs project and you can't miss them, if they're worn and paint peels off. Damages and scratches on railings are completely possible to redo simply by banisters sanding. If you own one of those beautiful arabesque-style railings that are piece of art, contact us on 0800 0434359 or 020 88309782 because they call us London's art masters!
Served Areas
City of London, Westminster
Barking and Dagenham, Havering, Newham, Tower Hamlets
Hackney, Redbridge, Waltham Forest
Barnet, Enfield, Haringey, Islington
Bexley, Bromley, Greenwich, Lewisham, Southwark
Kingston upon Thames, Merton, Richmond upon Thames, Wandsworth
Ealing, Hammersmith and Fulham, Hillingdon, Hounslow, Kensington and Chelsea