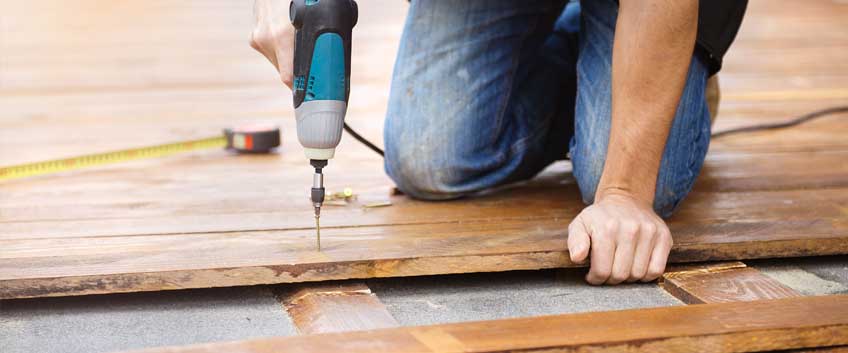 Spring is already here in its full beauty, flowers are blooming, birds are singing and everything we want to do is going outside and enjoying the beautiful weather, soaking in vitamin D and dreaming of longer and warmer days. Of course, some lucky ones of us have the opportunity to spend our weekends out in the garden and enjoy every minute of sunlight outside. No matter what your garden looks like, if it is a really small one with a place for only two chairs and one small table, or you are lucky enough to enjoy an acre of stunningly shaped flower gardens and a lot, a lot of green around, a deck could be a great asset to any outside space and will change your life… for good!
Imagine the perfect garden and we are sure that in your dreams you will see a small deck with a table and chair you can sit the whole day on and enjoy the beautiful weather. Well, this is completely possible and you can enjoy the garden of your dreams in reality, but first things first, you have to think about the decking, what are your best options and find a reliable flooring company that can help you out with turning your dream into reality on an affordable price! Well, in this case, we can help you a lot, so stay tuned to find out more about what you need to know!
When planning a decking for your garden, you have to be aware that there are a few things that have to be considered. One of the biggest dilemmas you may face is whether to choose synthetic or hardwood decking for your project. There is no one simple answer to this dilemma and it all depends on your own needs and requirements as well as on the characteristics of your own project. In this article our goal is to outline the pros and cons of synthetic and hardwood decking, so you can make a wiser and better choice.
Synthetic decking is a man-made decking solution that is made from recycled materials. It looks extremely like real wood and although many people reject this option for being "fake", we encourage you to think twice and see all the benefits. Easy to maintain, hard-wearing and long-lasting, appearing and beautiful, synthetic decking even comes at a great price, but you always have to keep your eye peeled, when going for this option, because there are many low-quality products on the market.
On the other hand, hardwood decking is made entirely from real wood and nothing else at all. Of course, because of the materials used, hardwood decking tends to be much more expensive, but because of that very beautiful, hard-wearing and long-lasting. The most common wood species used are Teak, Ipe, Balau, Iroko – most of them are exotic wood species that are recognised as very solid and durable, so they can acclimatise easily to different conditions and temperature changes and experience a lot, without losing their initial shape and beauty.
If you would like to learn more about the advantages of synthetic decking over hardwood and all the benefits of owning hardwood decking over synthetic one, then be sure to have a look at part two of the series.