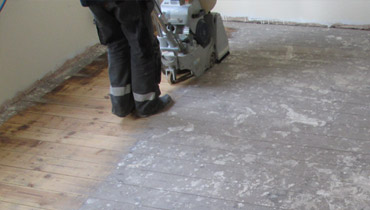 Your home is your castle and we, the members of Flooring Services London team, like to think of ourselves as neoteric knights not only because of our London origins. It's our mission to protect your castle's heart by taking care of ancient-looking and outworn wooden flooring and bringing it back to its shiny new life. Our weapons are modern sanding machines, our meed – satisfied customers.
As a part of refreshing and renovation, removing the surface is the basic stage, when we prepare the timber (no matter type of wood flooring) to serve you for a long time, by removing post-finish and creating clean surface for the new protective layer.
There are some details we pay attention to. Sometimes wood flooring could be too damaged (there are so many buildings in London with rich history). In that case we are ready to replace thin and cracked parts and create sturdy base.
Sanding can be pain, when it comes to dust in the process of work. Team takes care of that, because dust hinders sanding and to save you cleaning process. If your imagination is on vacation, you can revise example of our work, done on a sample part in your house for inspiration.
Dealing individually with our clients is our secret. When it comes to parquet sanding, there is not only technique, but the art of working with real wood elements and their natural beauty. It's not an easy job, since wood has its own character and is often arranged in pretty but complex compositions. We are ready to help you choose the finish of protective layer, no matter if you prefer certain shade, or you bet on genuine style, because we use large variety of lacquers and hardwax-oils. Sealing the surface with high quality products is as important as the perfect sanding service we provide. It's not only a question of appearance, we are looking for endurance and long-lasting power, so we use proved and innoxious products by Bona, Osmo, Junckers.
Engineered wood floors are created to look and feel like real wood, but they have their own specifics. This product is thinner than parquet with a top layer between 2,5 – 6 mm and can't be treated as often. If in doubt about the thickness our team is happy to give a professional advice for a right decision. In case your engineered wood flooring is in the indicated parameters, sanding consist of removing the sealants layer only and saving the thickness of real wood top layer.
Contact our customer service on 020 70360625 for a free sanding advice in London area now.
Served Areas
City of London, Westminster
Barking and Dagenham, Havering, Newham, Tower Hamlets
Hackney, Redbridge, Waltham Forest
Barnet, Enfield, Haringey, Islington
Bexley, Bromley, Greenwich, Lewisham, Southwark
Kingston upon Thames, Merton, Richmond upon Thames, Wandsworth
Ealing, Hammersmith and Fulham, Hillingdon, Hounslow, Kensington and Chelsea
Testimonials
A job done very well. Thank you.
Wonderful job done. Quick and efficient. Very pleased.