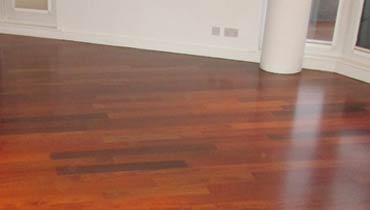 One of the best features of the home is the wood flooring, especially if you own this original almost antique wood flooring, which most of London homes do. However, taking care of old flooring genuine look can be tiresome and complex and sometimes even its unique beauty becomes meaningless because of expensive maintenance and hard cleaning. Many people in London decide to renew their old wood flooring, add more protection and comply with the latest trends, but they want to save the original wood look. What we offer is amazing wood floor staining service, which will create that modern coloured look. Changing the colour of your wooden floor doesn't have to be expensive, time consuming or overly complicated.
Floor staining is the process of applying wood stain, which consist of colorant mixed with agent or solvent. The agent can be water, alcohol, petroleum distillate, or the actual finishing agent (lacquer, varnish, polyurethane for glossy finish, etc.), depending on type of flooring and what condition it is in. Floor staining service is created to add color to wooden surface while leaving the substrate mostly visible. Which means, that floor staining won't delete wood's natural beauty, but only present it in new and exciting way. It will only highlight benefits of having vintage floors, especially with London's tradition in that kind of flooring.
Most wood stains for interior uses require further application of varnish or finish for protection and gloss and here is where job have to be professionally done. This procedure is called floor sealing and is part of our services in London portfolio, but let's go back on the staining and what you have to know about it.
Wood floor staining can be easy or difficult, depending on type of flooring, type of stain, ambient conditions, previous manipulations, etc. Our experts make everything easy by using only high quality, natural and long lasting stains and by providing floor sanding service to prepare surface for even application. Fresh lumber accepts stain poorly, while older wood absorbs stains well. Absorbing potential of wood depends also on species of wood. We will inform you better for individual needs and potentialities if you call us for free estimate in London area.
Preparation of flooring before the staining service guarantee better results. Floor sanding is the way we create perfect surface, where stain can penetrate properly and show up the right color. Sanded floors provide even stain application. When stain is applied and dried, depending on type of wood, protective finishing layer can be wanted. Stained fresh lumber like pine tend to worn out quicker which means, that a coat of polyurethane, wax sealants or lacquer will ensure longer wear of stain.
Special caution should be used when cleaning wood after the staining. We provide free information for our clients and also a long list of floor maintenance services in London, including polishing, re-oiling and refinishing for this attention to stained wood. Contact us on 0800 0434359 or 020 88309782.
Served Areas
City of London, Westminster
Barking and Dagenham, Havering, Newham, Tower Hamlets
Hackney, Redbridge, Waltham Forest
Barnet, Enfield, Haringey, Islington
Bexley, Bromley, Greenwich, Lewisham, Southwark
Kingston upon Thames, Merton, Richmond upon Thames, Wandsworth
Ealing, Hammersmith and Fulham, Hillingdon, Hounslow, Kensington and Chelsea