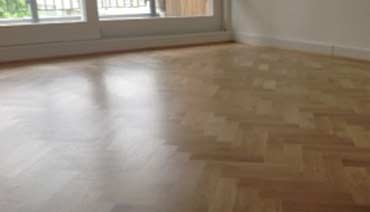 Your wood floor is the first thing visitors see, a focal point of your house and a background for beautiful furniture to shine even brighter. Wood is a popular flooring material because of its natural beauty, durability and the simple elegance and warmth it adds to the home. However, as time goes on, wood floors tend to get dull, worn and distressed. Flooring Services London has years of experience on the market and we can solve every flooring issue in East London.
Installing floors in East London
We will provide expert information for your informed choice of flooring. We start with floor fitting right after free estimate in East London to gauge the subfloor condition, to check moisture levels and advise you on the type of wood flooring and installation, suitable for your room. Solid, hardwood and parquet fitting requires even and dry concrete, while engineered wood and laminate can be laid floating over the subfloor, which can't be levelled for some reason.
Floor sanding and sealing in East London
Both flooring processes elongate the life of your flooring and work like magic. Solid, hardwood and parquet floors can be sanded regularly over the years for refreshment, while engineered wood sanding is a more precise job and needs extra attention, because of the thin wood layer we work with. We are proud of our latest fashion completely dust-free machines. However, to ensure minimum damage and dust, we provide furniture and door removing and plastic sheets for your windows.
Floor repair and restoration service in East London
Wood floors could serve you for decades if treated properly. Flooring Services London provides great repair services in East London and finds solutions to every flooring issue and prevents possible problems. When it comes to deep floor and stairs scratch repair, we trust only high-quality equipment and products, which are safe and nature friendly in addition.
Floor cleaning and maintenance in East London
Go further and get for free some expert information on how to adapt the cleaning strategy to your type of flooring. We offer permanent maintenance and refinishing job, including polishing, re-oiling and recoating for both residential and commercial projects, including schools, hotels, restaurants, gym halls, etc. We can do our job during holidays also and not interrupt your working process.
We at Flooring Services London know better, that wood flooring services need a certain budget and time to be done. Contact us on 020 70360625 and get a quote, which will surprise you!
Served Areas
Served Postcodes
E1
E2
E3
E6
E7
E9
E12
E13
E14
E15
E16
EC2
EC3
IG11
RM1
RM2
RM3
RM4
RM5
RM6
RM7
RM8
RM9
RM10
RM11
RM12
RM13
RM14
SE16
Testimonials
Dear Dimitri, Thank you for completing the work on time and to a great standard. I am very pleased with your team who worked swiftly and cleanly. I am very pleased with the finished product which I hope we will enjoy for many years to come.
A job done very well. Thank you.
Very happy. Very good overall.