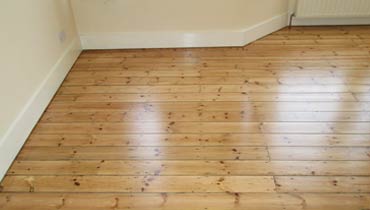 Picture yourself in the perfect man cave – glossy leather sofas, minibar with the best production of Ireland, spicy-scented Havana cigar in the shade of Bahama Mama and white smoke in complex arabesques, plus dark cherry wood floors, of course. Well, it's time to wake up, because if wooden floors can keep their old glory for such a long time, you are probably dreaming!
Time always leaves its marks, even on such a sturdy thing as floors. London's humidity damages wood easily if not installed the right way. Not to mention all kinds of stains, caused by children. Even high heels and your dog can scratch your wood floor so bad, that you'll need our help as the best floor repairs team in London. Let's be real, you are a cool guy, not a handyman and it's our job to give you expert advice, pursuant to the type of wooden flooring, size and type of damaged area and get your floor back to life without leaving a sign of our delicate work.
From pine floor, through parquet and solid wood, to engineered wood – we've mastered floor repairs to perfection and no type of flooring or wood can stop us! So don't hesitate and share your problem, just be sure you're London based.
Here is a list of the most common wood floor damages, if you're in doubt what your problem consist of:
Wooden planks can unfix, caused by moisture, or even shrink depending on type of material used. Sometimes they aren't installed the right way because of uneven subfloor or poorly chosen underlay. Our job is to fix or replace them by following standardised steps of installation.
Bedbugs in London can destroy wood, leaving different sizes gap sizes, our pros fill them with wood dust or slivers, depending on size.
We take personal attention to your case, when it comes to sanding, stripping and buffing. We won't save our expert view, neither efforts, until our clients are completely happy with the results.
When rough work is done, it's time for finishing touches. Our staining system delete worn-out and scratches, counting on the best products on the market. It's time to give some food to your imagination, because we're not only wood floor repairs workers, also artists!
Sealing is the missing link between you and your perfect floor and it's our job to fix that. No matter if you choose oil, wax or lacquer, it's our choice to work with the best products to be sure, that you won't need our help in next few decades!
There is so much information around Internet on how to fix wood floors for dummies. We don't believe, that you are dummies and we expect your calls on 020 70360625 for London area, so we can have the chance to save you labours and money.
Served Areas
City of London, Westminster
Barking and Dagenham, Havering, Newham, Tower Hamlets
Hackney, Redbridge, Waltham Forest
Barnet, Enfield, Haringey, Islington
Bexley, Bromley, Greenwich, Lewisham, Southwark
Kingston upon Thames, Merton, Richmond upon Thames, Wandsworth
Ealing, Hammersmith and Fulham, Hillingdon, Hounslow, Kensington and Chelsea