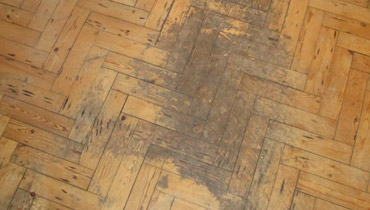 Parquetry is that special type of wood flooring, which is so close to our hearts. Not only because it is an old and classic type of flooring you can find in many antique London houses and it has the genuine and organic beauty of natural wood, but also because it comes in so many designs and patterns how many damages and problems can happen to it. We believe, that parquet floor problems are as individual as specific its own pattern and style can be, so we always pay attention to the smallest details and take specific care to every single London parquet flooring. We always use proven and successful systems of parquet repair and the best products you can find on the local London market.
Our experts create this Q and A list with the most common parquetry problems and their solution, but keep in mind, that if you can't find an answer to your specific floor condition, you can always contact us on 020 70360625 or info@flooringservices.london for further information about the repairs of parquet floor or to book a free estimate in London area.
Q: Which are the most common causers of parquetry damage and when do I need to repair my parquet floor?
A: Parquet flooring can be damaged from moisture, sun, extreme temperatures and impact as any type of wood flooring, but repairing damaged parquet flooring is very different. You often risk damaging the flooring even more, if parquet repair service is provided by amateurs.
Q: What to do if there are uneven or unfixed parquet planks?
A: We will advise replacing planks, depending on their condition. Usually, we use high-quality adhesive to install new or processed floor tiles back on the subfloor. Don't worry, Flooring Services London always provides high-quality lumber material, which will perfectly match the surrounding area without losing the harmony of the pattern and dimension.
Q: What to do if there are any gaps?
A: Gaps are a frequent problem with parquetry simply because there are so many pieces of wood often installed in specific patterns and designs. Plus, real wood has its own character and can shrink or enlarge due to moisture and especially with London humidity. In that situation, we spread floor filler over the flooring that will fill different sized gaps. The excess filler is easily removed during the next step of the repair process – parquet floor sanding.
Q: What to do if my parquet looks dull and worn, or there are uneven and grained textures on the surface?
A: Sanding, sealing and refinishing will bring your parquet flooring back to life. Since parquet is real wood material, it can be sanded frequently. Our goal here is to breathe new life into flooring without losing its genuine beauty and original design. Parquet sanding is a precise job because of the different directions of the planks installed, so you want it done by experts for best parquet floor repair service results in the London area.
Served Areas
City of London, Westminster
Barking and Dagenham, Havering, Newham, Tower Hamlets
Hackney, Redbridge, Waltham Forest
Barnet, Enfield, Haringey, Islington
Bexley, Bromley, Greenwich, Lewisham, Southwark
Kingston upon Thames, Merton, Richmond upon Thames, Wandsworth
Ealing, Hammersmith and Fulham, Hillingdon, Hounslow, Kensington and Chelsea