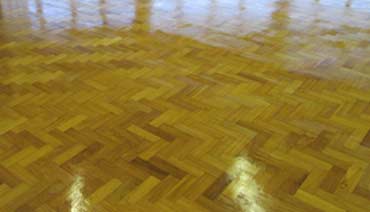 We at Flooring Services London believe, that every wood floor needs a different approach, no matter if it comes to floor laying, sanding and sealing, repair or cleaning. Different types of wood have a pretty different character and reaction to the environment and they bring their individualities to the flooring itself. As a result, we have an individual and very professional system of floor laying and maintenance for hardwood types and manufactured also.
All types of wood floor laying in North London
Parquet laying is one of the most difficult compositions in our business and it requires extra attention to detail and artistic approach. When you've mastered the complex mosaic parquetry laying to perfection, solid and hardwood timbers and laminate and engineered wood planks are pretty easy jobs and that is our case. Well, floor laying is not the whole process, because you need proper preparation beforehand. We will level and moisture check the subfloor for best results and we also provide floor insulation and soundproof fitting.
Professional wood floor repair service in North London
Solid and hardwood are one of the most difficult types of flooring to repair. They are made from real wood timber and unlike the manufactured types like laminate and engineered wood repair, they need hard work and professional approach. Don't worry, in the end, you have a super durable perfect match, no matter the type of flooring we deal with. Well, even easier to repair, laminate and engineered wood also have to be done by professionals for best results. In addition, Flooring Services London expert team provides great stairs floor repair.
Floor sanding service in North London
Different types of lumber need different sanding approaches. Since solid and hardwood are made from real wood timber, they can be sanded regularly, unlike engineered wood, which consists of a thin wooden top layer and needs extra attention. Parquet sanding is another case, because of the complex mosaic conception and planks and boards, installed in different directions. The same precise job comes with stairs sanding. When in doubt, contact us for more information and a free estimate in North London area.
All types of flooring cleaning in North London
We will provide expert information on the proper everyday cleaning strategy for every type of wood flooring. For deeper cleaning for both commercial and residential projects, we use modern equipment and high-quality products, which will cope with stubborn stains and deep-in-ground grit and dirt. For a finishing touch, we offer to you floor waxing, polishing and re-oiling right after the stripping process, which will remove the old protective layer when it is dull and worn.
You can count on Flooring Services London expert team for all kinds of wood floor services in North London. We are experienced and well-trained and we can solve any flooring issue and prevent your flooring for possible ones.
Served Areas
Served Postcodes
EC1
EN1
EN2
EN3
EN4
EN5
HA8
N1
N2
N3
N4
N5
N7
N8
N9
N10
N11
N12
N13
N14
N15
N16
N17
N18
N19
N20
N21
N22
NW2
NW4
NW7
NW9
NW10
NW11
Testimonials
Dear Dimitri, Thank you for completing the work on time and to a great standard. I am very pleased with your team who worked swiftly and cleanly. I am very pleased with the finished product which I hope we will enjoy for many years to come.
A job done very well. Thank you.
Very happy. Very good overall.