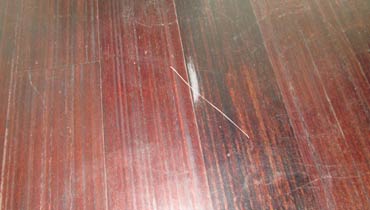 Tired of unsightly scratches damaging your beautiful floors? Our skilled technicians can make them look brand new again. We restore wood floors to their former glory, avoiding costly replacement. Contact us today at 020 70360625 to schedule your floor scratch repair service!
A Solution For All Scratch Causes
There are many common causes of scratched wood floors that we can repair - heavy furniture being dragged across the floor, construction debris and stones tracked inside, pet claws, high-heeled shoes, appliance dolly wheels, and more. We perform thorough inspections of each scratched area using high-power flooring lights to determine the full depth and severity. Light surface-level scratches from debris or pet nails can often be gently buffed out by hand using extremely fine grit sandpaper. Deeper gouges and gashes from heavy furniture or appliance dollies may require more intensive sanding of the affected planks with specialty flooring equipment.
For severe scratches and missing chunks of wood, we may need to do a custom fill with a wood filler matched to your floors, or even replace planks in very damaged areas. No matter what caused your floor scratches or how deep they are, we have the skills and tools to remedy them. Our comprehensive inspection allows us to tailor the repair process to each scratch for reliable, invisible repairs every time. We take the utmost care with your floors to restore them to a flawless, scratch-free surface.
Common Wood Floor Scratch Repair Services
Scratch filling - We can fill in minor scratches and gouges on your floors using a scratch filler kit. This involves cleaning out the scratch, applying filler, and blending it in for an invisible repair.
Spot refinishing - For deeper scratches, we can sand down the affected area and refinish just that spot to match the rest of the floor. This preserves your floor's finish while fixing the damaged area.
Complete floor sanding and refinishing - If there are many scratches over a large area, we may recommend fully sanding and refinishing the floor. This involves sanding off the old finish, staining if needed, and applying new polyurethane.
Scratch removal - For surface level scratches, we can buff them out using special abrasives and floor scratch repair pads. This smooths the scratch without removing any wood.
Inlay repair - For deep gouges or missing pieces of wood, we can fill the areas with wood filler or inlay pieces of wood in the right species and color.
Plank replacement - If a whole plank is heavily damaged, we can remove and replace it with a new plank for a seamless appearance.
Custom stain blending - If the scratches are stained or discolored, we can carefully blend custom stains to camouflage the area.
Protective coatings - Once repairs are made, we can apply protective finishes like polyurethane to prevent future scratches.
Professional Repairs, Not Quick Fixes
While DIY scratch cover-up kits may seem like a quick and easy fix, they often leave much to be desired. Marker-based touch-up kits only mask the appearance of scratches temporarily. The next cleaning will likely reveal them again. Stain or finish fill-in methods are also short-term solutions that can end up backfiring and create discolouration or texture issues that draw the eye. Our professional repairs go beyond just concealing flaws - we completely restore damaged areas to a like-new condition for enduring results.
Each repair is customised to match your floor's original stain, finish, and texture so the fixed areas blend in seamlessly. We use commercial-grade stains, sealants, and tools to ensure maximum durability and prevent future scratching. Do it right the first time and avoid the hassle of repeated DIY cover-ups. Our reliable scratch repair techniques are done to last. We guarantee all workmanship so you can trust your floors will look fantastic for years to come after being in our experienced hands.
Customised Process For Flawless Results
For minor scratches, we use extremely fine sandpaper to gently buff the area until the scratch disappears. The surrounding finish is preserved. We then match the existing stain and finish to protect and blend repairs. Major scratch repairs involve refinishing the affected planks or entire floor to look like new. Don't live with unsightly damaged floors another day. With our skilled floor scratch repair services in London, we can erase even the most severe scratches and gouges for flawless, lasting results. Contact us at 020 70360625 for a free quote!
Served Areas
City of London, Westminster
Barking and Dagenham, Havering, Newham, Tower Hamlets
Hackney, Redbridge, Waltham Forest
Barnet, Enfield, Haringey, Islington
Bexley, Bromley, Greenwich, Lewisham, Southwark
Kingston upon Thames, Merton, Richmond upon Thames, Wandsworth
Ealing, Hammersmith and Fulham, Hillingdon, Hounslow, Kensington and Chelsea