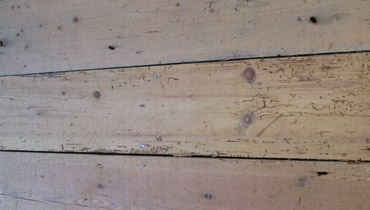 It's natural for wood floors to dry out and shrink over time, accelerated by heavy traffic and aggressive environments such as direct sunlight or excessively dry air. The planks can separate, causing gaps between boards, and the boards can also pull away from the subfloor, resulting in loose, squeaky areas. However, with proper maintenance and regular repairs, you can dramatically extend your floor's lifespan. Pay attention to any squeaky or loose boards, as those are warning signs that repairs may be needed before more extensive damage occurs. The wood flooring experts at Flooring Services London use time-tested techniques and high-quality sanding and finishing equipment to evaluate your floors, identify problem areas, and perform necessary repairs to get your floors back into great shape. From sanding down high spots, filling gaps between planks, re-securing loose areas by re-nailing into the subfloor, and applying a new protective finish, our team has the skills and experience to give your floors a new lease on life. With periodic maintenance and repairs from Flooring Services London, your wood floors can remain beautiful and sound for decades to come.
Common Floor Boards Repair Services
Individual board replacement - We can replace a single damaged or warped floorboard with a new one in the same species of wood. This involves prying up the old board and nailing in the new one.
Section replacement - For a cluster of beyond repair floor boards, we replace that entire section with new boards. This provides a cohesive look.
Complete floor replacement - If most of the floor is damaged, we recommend replacing the entire floor with new floor boards for a consistent appearance.
Board leveling - We can sand down high spots in uneven boards or use leveling compounds to fill low spots for a flat floor.
Squeak reduction - To eliminate squeaky boards, we can reinforce the subfloor and/or use screws to refasten the floor boards tightly.
Gapping repairs - We can fix gaps between boards by refastening them to the subfloor or filling gaps with slivers of wood.
Transition repairs - Loose transition moldings can be re-secured to the floor boards with adhesive and fasteners.
Floor sanding - For scratches, discoloration or uneven boards, we can sand the floors down and refinish them.
Matching finishes - After repairs, we'll blend custom stains and finishes to match existing boards seamlessly.
Moisture prevention - We can apply protective finishes or improve ventilation to prevent further moisture damage.
Identifying and Repairing Issues
Our highly-trained technicians perform comprehensive inspections to identify every unstable plank. Once problematic planks are pinpointed, we firmly re-secure each one by re-nailing or screwing it tightly into the nearest floor joist. Loose or popped nails are a very common culprit behind squeaky, bouncy wood floors, as they allow gaps to form between the floor boards and joists beneath. When nails loosen over time, whether due to natural wood shrinkage, moisture changes, or heavy use, they fail to hold floor boards securely in place. This leads to irritating noises and instability. Our expert technicians carefully inspect for any nail heads protruding above the floor surface and remove them.
We then drill pilot holes and drive new exterior-grade wood screws deep into the joists below, anchoring the boards firmly once again. The new screw heads are set below floor level and concealed with a premium wood filler that matched perfectly to your floors. For any existing gaps between boards or around perimeters, we meticulously fill them with the same wood filler for an invisible repair. If needed, we can also install a protective underlayment beneath your floors during the repair process. This helps prevent future gaps by providing a cushion between the subfloor and floor boards as they expand and contract. Our comprehensive nail and gap repairs restore the integrity of your floors for many years of solid performance. Just walking on them will feel more stable and quiet.
Restoring Your Floor's Beautiful Finish
While even the most expert floor repairs can inevitably involve some mess from removing boards, drilling holes, and handling wood fillers or adhesives, we take care to contain dust and debris as much as possible. Once repairs are complete, we restore your floors to a like-new finish through comprehensive sanding, sealing, and staining services. Light sanding smooths any raised edges or inconsistencies left by filled holes and gaps. Fresh protective sealants are applied to protect the wood and prevent future moisture damage. We expertly stain repaired sections to blend seamlessly with the original floor colour. Staining and finishing may involve coating the entire floor to ensure an even, renewed appearance free of scratches, gouges, discolouration, and wear patterns.
We work efficiently to minimise downtime without the use of your floors. In just a few days, you'll be walking on expertly repaired floors that look stunningly revitalised and solid underfoot - free of annoying creaks, flexing, and motion. Don't resign yourself to living with deteriorating hardwood floors for years to come. Have the professionals at Flooring Services London breathe new life back into your floors with expert inspection, repairs, sanding, and refinishing services. Contact us today for a free estimate and get your floors back to maximum comfort, beauty, and longevity!
Served Areas
City of London, Westminster
Barking and Dagenham, Havering, Newham, Tower Hamlets
Hackney, Redbridge, Waltham Forest
Barnet, Enfield, Haringey, Islington
Bexley, Bromley, Greenwich, Lewisham, Southwark
Kingston upon Thames, Merton, Richmond upon Thames, Wandsworth
Ealing, Hammersmith and Fulham, Hillingdon, Hounslow, Kensington and Chelsea