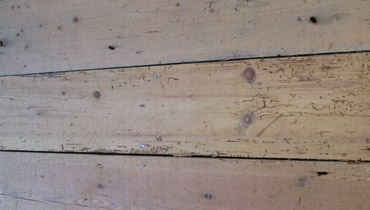 When time goes by wooden material usually dries out and shrinks, especially when it comes to wooden flooring, affected by aggressive environment and high traffic. There is nothing to worry about, this is the natural character of wood. However, you can slow down process of wear and tear and save yourself some money and nerves when possible major damages can pop out after a few years. The proper maintenance and regular floor repair as a prophylaxis in situations, when your floor boards don't behave the way they should be are your key words right here. When boards produce that squeaky noise often, it can not only destroy comfort but also be a sign of upcoming problems. We will literary cure your wood flooring thanks to our proven and successful system of repair services and high quality equipment.
The boards are either nailed or screwed into joists. When time goes by, nails usually get loose and the boards itself shrink, which creates a gap between the flooring and joists. Especially if you don't have underlay installed to fill these gaps and create seal between subfloor and flooring layers. Our expert workers can always install protective underlay with natural or manufactured character under your boards before installation. However, if you have already flooring installed and the problem is already obvious and easy to tell, we are happy to save the day with professional floor repair service in London. Keep in mind underlayment gaps can appear in a few years if you have underlay installed also. In that case we can fix that from above or below the flooring and we will chose the appropriate method for maximum comfort and perfectly done job.
Now, when the problem doesn't come from underlayment issues it can consist of the quality of the boards timber. The common reason for floor boards repair in London, we have met any times before, is loose nails, which can't fix boards in place. We provide free estimate in London area to diagnose flooring's condition and then start with preparation. Repair preparation consists of inspecting the floor for nail or screw heads that have raised up and then remove them. We drill new wood screws instead in the existing hole and cover them with wood filler to make them sturdy and prevent movement. We use the same high quality wood floor filler for any existing gaps.
Although loose floor boards issues can be solved easy, you want your floor boards repair professionally done, because that will prevent future problems and will ensure you in best flooring condition. Flooring Services London has its rich portfolio with residential and commercial client in London and well trained specialists when it comes to floor boards repair. They will identify every single loose floor board and nail it to the nearest floor joist for maximum durability and flooring's longer life. Since the wood floor repair can get a little bit messy, depending on flooring's condition, we provide finishing processes like sanding, sealing, staining.
Served Areas
City of London, Westminster
Barking and Dagenham, Havering, Newham, Tower Hamlets
Hackney, Redbridge, Waltham Forest
Barnet, Enfield, Haringey, Islington
Bexley, Bromley, Greenwich, Lewisham, Southwark
Kingston upon Thames, Merton, Richmond upon Thames, Wandsworth
Ealing, Hammersmith and Fulham, Hillingdon, Hounslow, Kensington and Chelsea