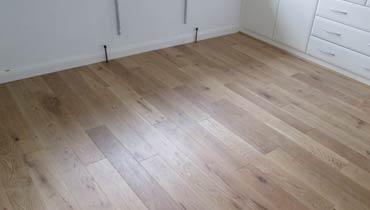 Engineered wood flooring is designed to emulate the elegant look and feel of traditional solid wood flooring but at a more budget-friendly price point. Engineered wood floors are typically constructed with plywood or HDF cores layered with a top veneer of real hardwood. This innovative construction makes engineered floors more dimensionally stable and durable than solid wood, while still providing the beauty of real wood on the surface.
Quality and Construction Vary
The quality of engineered floors can vary greatly depending on the manufacturer, with higher end options featuring thicker wood veneers, higher density cores, and quality finishes. Floors with veneers exceeding 3/16" thickness can usually be lightly sanded and refinished multiple times, much like solid floors. However, even lower-end engineered wood floors with thinner veneers can still be repaired and restored by the skilled craftsmen at Flooring Services London.
Specialised Repair Expertise
Our team has specialised expertise in engineered wood floor repairs, from patching small damages to complete renovations. We take great care in sanding and refinishing to preserve as much of the precious veneer as possible. We have advanced techniques to repair warped planks, replace damaged sections, and fix unstable boards or gaps. Don't replace your floors - have our experienced technicians revive them affordably! Contact us today at 020 70360625 to learn more about our engineered wood floor repair services.
Repairing Uneven or Hollow Boards - For boards that are uneven, creaking, or hollow sounding due to failed glue bonds, we expertly inject new adhesive underneath to re-bond them without removing the planks. This restores stability quickly.
Damaged Board Replacement - For cracked, warped, or badly damaged boards, we replace them with identical planks matching the wood type, colour, and grain. New boards are custom cut for a perfect fit. We use only the highest quality adhesive and fasteners to seamlessly blend repairs. You won't even know replacement boards were installed.
Gap and Crack Filling - We fill gaps between boards, splits in planks, and around perimeters with a resin-based wood filler matched perfectly to your floor's texture and colour. This prevents debris from getting underneath and prepares floors for smooth refinishing.
Refinishing With Care - We lightly sand floors to remove scratches, wear patterns, and discolouration from UV exposure and dirt. Extra care is taken to avoid over-sanding the thin veneer of engineered flooring which can compromise durability. New finishes are applied to restore your floor's vibrancy and provide long-lasting protection.
Custom Repairs - In addition to standard repairs, we also perform speciality repairs like border inlays, medallions, plank repairs on stairs, and custom colour stains. Damaged parquet flooring, rare woods, and intricate patterns are no problem for our experienced technicians.
Served Areas
City of London, Westminster
Barking and Dagenham, Havering, Newham, Tower Hamlets
Hackney, Redbridge, Waltham Forest
Barnet, Enfield, Haringey, Islington
Bexley, Bromley, Greenwich, Lewisham, Southwark
Kingston upon Thames, Merton, Richmond upon Thames, Wandsworth
Ealing, Hammersmith and Fulham, Hillingdon, Hounslow, Kensington and Chelsea