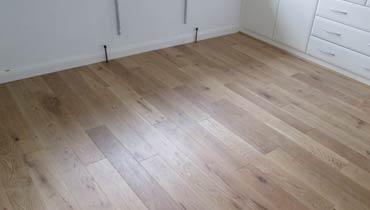 Engineered wood flooring is made to look just like solid wood flooring, but on more affordable price and it comes even more durably and damage resistant. Quality can vary, usually depending on the price. The most popular type on engineered wood flooring you can find in London houses are planks made of plywood topped with a layer of wood veneer. The thickness of the wooden top layer may vary. When the top layer is thicker it can be sanded and refinished every few years just like solid wood flooring. But don't worry, even if your flooring isn't in that good condition, if it is pretty worn or made of not that high quality materials, Flooring Services London is your helping hand in London with our engineered floor repair service.
Beside sanding and refinishing we've already mentioned, there are numerous of other methods for repair of engineered wood we can offer in London area. Methods depend on the scope of damage and the type of flooring in use, so you definitely want our expert advice before starting with the project itself. We offer free estimate for London and surrounding area to have a closer look and find out what the damage consist of and what solution we can find. Don't worry, our professionals will only do the repairs needed and nothing additional and unnecessarily and that way we can save you money.
Here are most common situations you might need repair services and how we can actually help you. Of course, you can always contact us for further information on 020 70360625 or info@flooringservices.london – it is completely free!
There are many reasons for uneven engineered wood flooring. One of them is caused when the glue fails to bond on the subfloor during installation (because of dirt and dust, unlevelled subfloor, moisture, etc.). Thanks to our professional and high quality engineered floor repair kit we can always save your floor by injecting adhesive into the center of the damaged board. Don't worry, not moving and lifting needed!
Now, when replacement of damaged planks is needed, we are ready to help you in London area. We will find the closest option to the removed plank and after a bit of sanding and sealing you can hardly tell any difference. Plus we always count on the best London product companies and we use only high quality adhesive.
Gap filling is another part of the repair process that should be done before sanding the engineered floor. Depending on the size of the gaps, we fill them with mixture of lumber dust and resin, which have the exact same texture as the wood itself. Again, you can hardly tell any difference!
Finally, the finishing part of the repair process is sanding and refinishing. This final steps must be performed carefully, as the veneer of engineered flooring is relatively fine. You definitely want it done by professionals, otherwise harsh sanding would not only make previous work done meaningless, but take a lot from the durability of your flooring and cause quicker worn of engineered floor.
Served Areas
City of London, Westminster
Barking and Dagenham, Havering, Newham, Tower Hamlets
Hackney, Redbridge, Waltham Forest
Barnet, Enfield, Haringey, Islington
Bexley, Bromley, Greenwich, Lewisham, Southwark
Kingston upon Thames, Merton, Richmond upon Thames, Wandsworth
Ealing, Hammersmith and Fulham, Hillingdon, Hounslow, Kensington and Chelsea