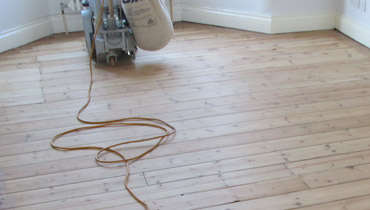 Floor boards consist of solid timber and come in thickness from 12, 14 and 19 mm. Since the boards are made from timber, exactly like solid wood floors they can be sanded and refinished many times if needed. If you live in London and surrounding areas, call us for information and offers whenever you feel you want to refresh your floors. Our floorboards sanding service is designed to improve your favourite wooden floor visually and also remove all imperfections and issues on the surface of the floor in order to minimise the risk of major problems beyond repair.
Unlike floating floors that float on top of the existing subfloor, hardwood boards are glued or nailed directly to any subfloor, which makes them super sturdy, stress-resistant and doesn't produce the "clicky'' sound that floating floors tend to. Floorboards sanding isn't any different from any other wood floor sanding service. Floorboards sanding pretty much consists in stripping off the old finish from the surface of the floor along with all imperfections such as scratches, dents, marks, stains, dirt build-up etc.
The wooden boards create that classic and elegant look of an alluring and cosy home or can be refinished and renovate for a modern twist in your minimalistic contemporary room or office. Renovation always begins with floor sanding like a milestone for great-looking flooring and if you call our team, we can offer you free information and estimate to talk overexciting projects. Remember that if you want to completely change the way your real wood floor looks, floorboards sanding is necessary and the initial step. From then on our professionals will continue with staining and refinishing your floor until the desired look is achieved.
Well, floorboards often replace the unsightly carpet or cover up tiled areas and remodel the whole conception of your home. It's time to thank them for faithful service and make them shiny new with a little bit of sanding. Similar to other timber products, hardwood boards come practically un-finished and in "row" condition, which means they can be stained and refinished a lot. In case you're bored with the old look of your floorboards or they're previously poorly done, we will provide information about sanding and do it for you, if in London. Our floorboards sanding experts are always happy to brainstorm some ideas with you, discuss current trends in the wood flooring world and what is in in the moment and overall help you choose the best look for your wooden floor.
The floor sanding procedure requires certain preparation – the damaged boards have to be replaced, loose nails – hammered down, cracks – filled with a filler. If floorboards are painted first we sand any loose or blistering paint, if they are varnished – we sand off traces of varnish, if polished or waxed – you definitely need expert advice and job, otherwise, the paint may not take. In a nutshell, the main idea of a professional floorboard sanding service is removing the old finish until the surface of the floor is completely smooth, even and uniform, which means it is ready for the application of different staining and finishing products next. Flooring Services London mastered different types of methods over the years, so we'll do that for you with a free estimate in London and the surrounding areas.
The sanding process begins with a coarse grade and finish with a fine one. In-between sanding stages dust have to be collected because dust can scratch the fine and smooth surface on the newly sanded floor and also can be mixed with PVA later to fill any appearing gaps. Then knotting solution has to be applied to any knots so the resin doesn't seep through paint layers later. After all, this is done, floorboards have to be vacuumed and fine dust completely removed, white spirit can be used for removing the rest of the grease and dust. Now the boards are ready for primer or undercoat to be applied before painting and finishing them.
As you can see, floorboards sanding is not an easy job and you want it done by pros. Many years doing that job for our clients all around London area give us confidence, that we are able to please everyone. Call our team member on 020 70360625!
Served Areas
City of London, Westminster
Barking and Dagenham, Havering, Newham, Tower Hamlets
Hackney, Redbridge, Waltham Forest
Barnet, Enfield, Haringey, Islington
Bexley, Bromley, Greenwich, Lewisham, Southwark
Kingston upon Thames, Merton, Richmond upon Thames, Wandsworth
Ealing, Hammersmith and Fulham, Hillingdon, Hounslow, Kensington and Chelsea