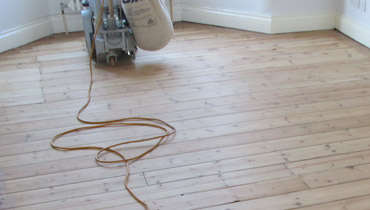 If you're seeking to breathe new life into your space, look no further than the charm of floorboards. These solid timber treasures, with thickness options ranging from 12 to 19 mm, can be transformed through sanding and refinishing. Our London team invites you to explore the artistry of floorboard sanding and restoration that enhances aesthetics while erasing surface imperfections.
Why Choose Floorboards Sanding in London
Unlike floating floors, where a sense of detachment can arise, hardwood boards are securely affixed to the subfloor, offering both strength and stability. The beauty of floorboard sanding lies in its simplicity. Through meticulous sanding, we strip away the old finish and imperfections, such as scratches, dents, and stains, unveiling the genuine allure of your timber floor.
Wooden boards exude a timeless charm that can harmonise with classic and contemporary interiors alike. Whether you're yearning for the cosy nostalgia of a traditional home or the sleek sophistication of a modern space, floorboard sanding is the pivotal starting point. Our experts guide you through this transformative journey, from sanding to staining and refinishing, achieving the vision you desire.
Elevating Your Home with Refined Flooring
Unveil the potential of your living spaces by liberating them from outdated carpets or tiles. Let your floorboards shine anew with the artistry of sanding. Hardwood boards, often arriving in an "unfinished" state, hold the promise of multiple refinishing endeavours. If you're based in London, we're your trusted partner for superior floorboard sanding, offering tailored advice, innovative ideas, and meticulous execution.
The road to impeccable flooring involves preparation. Damaged boards are replaced, nails secured, and cracks filled. Painted, varnished, or waxed boards each require a tailored approach, ensuring the foundation for flawless results. Our professional floorboard sanding service guarantees a surface that's not only smooth but primed for the enchanting finish of your choice.
Experience the Craftsmanship of Flooring Services London
We take pride in offering an unmatched level of expertise that sets us apart from the competition. Our commitment to excellence is evident at every stage of the floorboard sanding and restoration process. Our journey of refinement begins with meticulous planning and precision. From the initial coarse sanding stage to the final velvety finish, each step is executed with a keen eye for detail and a deep understanding of wood's natural beauty. Unlike many other companies, we go beyond the surface, ensuring that imperfections are addressed and the result is a flawlessly restored floor that radiates elegance.
What truly distinguishes us is our comprehensive approach. Dust collection isn't just an afterthought—it's a vital part of our process. We understand that even the smallest particle can mar the final result, which is why we leave no room for compromise. Our knotting solution application further enhances the durability of your floor, ensuring that the beauty we unveil lasts for years to come. Thorough cleaning is more than just a courtesy - it's a reflection of our dedication. We leave no trace of residue or debris, allowing the true essence of your floor's grain to shine through. This meticulous attention to detail extends to every corner of your space, ensuring a seamless transition from floor to room.
With Flooring Services London, you're not just getting a service; you're getting a transformational experience. Our commitment to excellence, our comprehensive approach, and our unwavering dedication to every project set us apart as the top choice for floorboard sanding and restoration in London. We don't just restore floors; we elevate living spaces.
Contact us today at 020 70360625 to embark on a journey that goes beyond restoration—it's a testament to the artistry and craftsmanship that define Flooring Services London.
Served Areas
City of London, Westminster
Barking and Dagenham, Havering, Newham, Tower Hamlets
Hackney, Redbridge, Waltham Forest
Barnet, Enfield, Haringey, Islington
Bexley, Bromley, Greenwich, Lewisham, Southwark
Kingston upon Thames, Merton, Richmond upon Thames, Wandsworth
Ealing, Hammersmith and Fulham, Hillingdon, Hounslow, Kensington and Chelsea