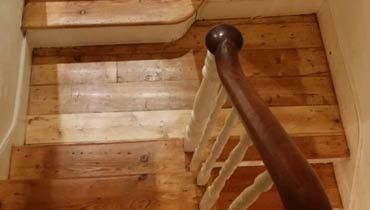 Stairs sanding is a crucial but often overlooked aspect of wood flooring services. In the contemporary realm of interior design, stairways have evolved from mere utility to central design elements. As such, stairs sanding has become integral to home restoration projects, offering a chance to elevate the aesthetics and functionality of your space. Wooden stairs hold a prominent place in London homes, often serving as focal points that make lasting impressions. To maintain their elegance and ensure a lasting first impression, regular stairs sanding is essential.
Making the Most of London's Architectural Gems
In London's domestic and commercial architecture, staircases form a cornerstone. Similarly, timber flooring is prized and cared for, yet professional stairs sanding is often deferred or overlooked. However, the significance of stairs sanding cannot be understated. Our professional process enhances durability, comfort, and aesthetics. Like flooring, stairs can wear, age, dull, and sustain damage due to foot traffic and regular use. Stairs sanding serves as a preventive measure, addressing minor issues before they escalate. It revitalizes your stairs by eliminating old finishes, dirt build-up, scratches, dents, and stains, leaving the wood ready for a fresh coat of finishing.
Prioritising Your Stairs' Well-Being
Considering their exposure to higher footfall and everyday use, stairs often require more attention than standard timber floors. Regular stairs sanding is not just recommended; it's essential for maintaining both their aesthetics and integrity. When it comes to projects in London and its surroundings, we stand as a premier name in the wood flooring industry. Our approach to stairs sanding mirrors our dedication to flooring projects, promising the same commitment, expertise, and success.
Understanding the Complexity of Stairs
Stairs come in diverse styles and types, constructed and installed in various ways. Similar to flooring, real wood stairs showcase a range of colors, textures, and finishes. Stairs sanding offers comparable benefits, addressing wear and tear, fading colors, and surface imperfections. Depending on tread and riser thickness, stairs sanding can be performed multiple times throughout their lifespan.
The Art of Delicate Stairs Sanding
Stairs sanding stands apart due to its delicate nature. The intricacies of the process, combined with the small surface area and numerous curves and angles, demand the expertise of knowledgeable professionals. We understand that stairs sanding requires finesse and attention to detail. Our specialized equipment, designed for the nuances of stairs sanding, ensures exceptional results. Whether by hand or with advanced tools, we approach each project with precision.
Your Trusted Stairs Sanding Partners
When it comes to enhancing the elegance and longevity of your wooden stairs, we stand as your unwavering allies. Take the transformative step by connecting with us at 020 70360625. Our dedicated team awaits to guide you through an unparalleled journey of stairs sanding services in London.
With every interaction, you'll experience the hallmark of our commitment – excellence. As your trusted partners, we bring a touch of mastery that redefines the aesthetics and resilience of your stairs. We understand that stairs are more than just functional components; they're a testament to your space's character. That's why we approach each project with the precision and care that reflects our expertise.
When you choose us for your stairs sanding needs, you're choosing a team that thrives on turning ordinary stairs into extraordinary focal points. Our dedication to craftsmanship ensures that your stairs are not only revitalised but transformed into showcases of artistry. Elevate your living space with stairs that tell a story of meticulous care and unparalleled skill.
Served Areas
City of London, Westminster
Barking and Dagenham, Havering, Newham, Tower Hamlets
Hackney, Redbridge, Waltham Forest
Barnet, Enfield, Haringey, Islington
Bexley, Bromley, Greenwich, Lewisham, Southwark
Kingston upon Thames, Merton, Richmond upon Thames, Wandsworth
Ealing, Hammersmith and Fulham, Hillingdon, Hounslow, Kensington and Chelsea