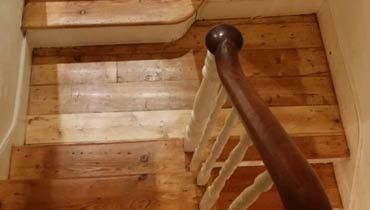 Stairs sanding tends to be a pretty neglected service in the wood flooring industry and here we would like to emphasize on the importance of stairs sanding. Since stairways are no longer just a functional feature of every home, nowadays this structural feature of the house can be used in the context of interior design, therefore stairs sanding becomes a more essential part of a home restoration project. In fact, stairs are already an important feature of the interior design of your London-based house, they can even become a focal point of your home, depending on their design and style and stairs sanding should be considered regularly too. You can hardly envision a London home without such important components of the interior style and functionality like wooden stairs and floors. Being the first thing most of the visitors of your home will notice when entering the house, wooden stairs should look great and make a good first impression, therefore stairs sanding plays an essential role for the improvement of their condition and appearance.
Domestic and commercial architecture in London is practically bound to stairs like the main part of a building plan. The same can be said for timber flooring too and while the latter one is often treated with a lot of care and regular maintenance, plans for a professional stairs sanding project are often left for better days or even not considered. However, stairs sanding is an important professional process that guarantees to contribute a lot for the improved functionality, durability, comfort, and appearance of your stairs. Wooden stairs can also be worn, aged, distressed, dull, and damaged because they are made out of the same solid and engineered wood boards your floor is structured out of. Stairs sanding is a treatment recommended for minimizing the risk of minor issues growing major, removing the old finish, dirt build-ups, and other imperfections on the surface such as scratches, dents, stains, and opening up the wood's pores for the application of fresh coats of finishing product.
In fact, stairs sanding could be recommended on an even more regular basis compared to a timber floor maintenance, because stairs experience a lot more high traffic, heavy footfall, everyday use. Make sure you are not underestimating the importance of stairs sanding and how beneficial stairs sanding is. When it comes to projects in London and surrounding areas, we can help you as a professional and leading company in London's wood flooring industry. We approach every stairs sanding project with the same dedication, commitment to success, and expertise we have towards flooring projects. With us you can expect professional performance and the right approach to stairs sanding, no unnecessary services offered, only the essential stairs sanding and the best care for your wooden stairs.
Stairs come is a variety of types and styles, depending on the way they are constructed, the way they look. Stairs installation also varies in different methods. In the common case, you are either covering already existing stairs with solid or engineered wood floorboards, or you are working with a bare subfloor. Real wood stairs can be structured differently – with one or two open sides, or no open sides at all. The main structure of every stair usually comes with two components – the tread you step on and the riser, which is the vertical plank between two treads. They are available in different colours, textures, finishes, effects, wood species, and maintained and cleaned the same way as you do with a wooden floor. Therefore, stairs sanding comes with the same benefits and stairs sanding is recommended in the same cases, when treads and risers experience wear and tear, dullness and fading of the colour, imperfections on the surface. Stairs sanding can happen up to a few times in the lifespan of a stairway, depending on the thickness of the treads and risers.
What differs stairs sanding from the same treatment for a wooden floor is how delicate stairs sanding is. Compared to classic wood sanding, stairs sanding can be trickier and more challenging job because of the smaller surface, the many curvy and angular areas. Therefore, stairs sanding is a job you want to leave in the reliable hands of knowledgeable and experienced professionals. Only a real expert will be able to perform stairs sanding with the required attention to details. In addition, only a professional stairs sanding company will have the right delicate tools and equipment for performing outstanding stairs sanding service. So if you are looking for reliable stairs sanding experts in London, we are the company to count on. When it comes to stairs sanding, we know how to handle the more delicate job, we use advanced and dainty equipment that serves the requirements of a stairs sanding project, we have the knowledge and expertise to perform stairs sanding by hand whenever this is needed.
Make sure to get in touch with us on 0800 0434359 or 020 88309782 because we are the London's best stairs sanding masters.
Served Areas
City of London, Westminster
Barking and Dagenham, Havering, Newham, Tower Hamlets
Hackney, Redbridge, Waltham Forest
Barnet, Enfield, Haringey, Islington
Bexley, Bromley, Greenwich, Lewisham, Southwark
Kingston upon Thames, Merton, Richmond upon Thames, Wandsworth
Ealing, Hammersmith and Fulham, Hillingdon, Hounslow, Kensington and Chelsea