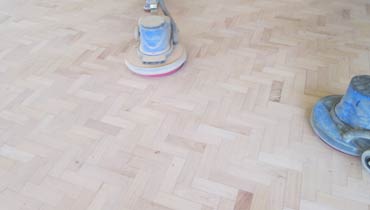 Schools, just like any other building with commercial use, have high traffic. In addition most schools in London houses in old buildings with rich history, often poorly restored or never taken care of at all. Because of old-fashioned interior designs and wood flooring being popular years ago (actually, nowadays also), most of the schools have parquetry, solid or hardwood installed. Sports halls are usually all parquet floors, an example of NBA proven equipment. Now, because of actively treated and often installed with old materials and products, school floor sanding is essential and we are happy to take care of large flooring areas in London. We deliver professional and high-quality school floor sanding services in the area that always achieve the desired results thanks to years of experience, knowledge and hard work we are proud of.
Flooring Services London is your specialist team for parquet, boards, hardwood and engineered wood refinishing. If your school is more than fifty years old, assembly and sports halls, rooms and corridors are most likely to have either parquet or hardwood floors. Both of these are expensive to replace and school floor sanding is the solution for better looking glossy floors, deprived of damages, loose blocks and planks, scratches, etc. School floor sanding is the way to go and restore the initial beauty and durability of every floor made out of real wood materials and products. Laminate may look better and cheaper alternative, but as we mentioned, replacement isn't that affordable, especially for big areas and parquet and solid wood flooring is super durable and can last you forever if properly sanded. No matter the type of wood flooring, We offer great school floor restoration services that will save you money and will last you decades. Essentially, the school floor sanding service we provide is designed to strip off every imperfection on the surface of the floor. By thins, school floor sanding treatments minimise the risk of these imperfections growing into major issues and causing more serious problems that are beyond repair or too expensive to fix.
Our team provides free estimate in London area. We look at current state of floors, previous history and activity of use. We believe, that every customer case is different and we will make individual payment scheme, depending on specific needs. We won't fabricate additional services if the floors don't need them and will do only required. However, we always put a lot of effort in the restoration of the school wooden floors. Our school floor sanding services are flexible, which means that we take into account the work schedule of the school and are able to provide work on the weekend or outside working hours. By this we ensure the safety of everyone working or studying at the school and minimal disruption to the studying process during the day.
What about the work itself? Although our team is well organised, we always double check and pay attention to every single detail, so the sanding procedure might take some time. We are happy to announce we are able to work during holidays and weekends. That means we won't interrupt learning process by any mean. Then we repair, replace damaged blocks and boards, finding the closest replacement. Gap filling, hammering nail heads, fixing loose pieces by gluing and nailing is part of the prep. Our workers always bet on the best machines that almost completely dust free to ensure a minimal amount of debris. We also provide free plastic sheets to save doors, windows and nearby rooms as clean as possible and vacuum frequently.
School floor sanding may sound like a big and stressful project you cannot be bothered to deal with. However, the services we deliver guarantee minimal disruption, a timely and high-quality method of work and professional performance. School floor restoration may look like pretty straightforward job, but it need to be done by professionals. Otherwise, you take the risk of small flaws in timber, that untrained eye can miss and that can cause pretty serious damages in near future. Especially for buildings, used by young people and small children, risks have to be taken down to minimum. That leads us to the next thing – we always use safe equipment and products to ensure healthy environment for students and teachers. Call us on 020 70360625 for further information!
Served Areas
City of London, Westminster
Barking and Dagenham, Havering, Newham, Tower Hamlets
Hackney, Redbridge, Waltham Forest
Barnet, Enfield, Haringey, Islington
Bexley, Bromley, Greenwich, Lewisham, Southwark
Kingston upon Thames, Merton, Richmond upon Thames, Wandsworth
Ealing, Hammersmith and Fulham, Hillingdon, Hounslow, Kensington and Chelsea