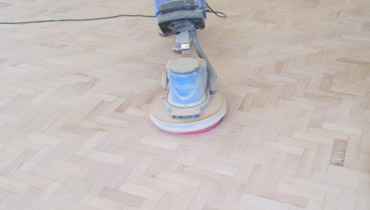 Parquet flooring is a timeless, geometric wood flooring known for its elaborate block patterns. While beautiful, these intricate floors require specialised care over time. Our London parquet sanding services restore worn and damaged parquet floors to their original glory.
Signs Your Parquet Needs Sanding
There are a few telltale signs that your parquet floors are due for professional sanding services. Visible scratches, dents, gouges and discolouration that regular cleaning cannot fix indicate your parquet needs sanding to refresh the surface. If sections of your floor have a worn or peeling finish that requires a new protective coat, sanding will prepare the bare wood for this application. Uneven parquet blocks or planks that feel rough or unlevel underfoot can also benefit from our sanding to smooth and stabilise the floor. If you are looking to change the stain colour of your existing parquet, sanding is necessary to strip the old stain before applying a new one. Finally, when transitioning between flooring in different rooms, we can use sanding to expertly blend the flooring heights for a seamless look. Contact us to assess if your parquet floors show any of these signs that professional sanding services would help improve their condition.
Benefits of Parquet Floor Sanding
Sanding provides multiple benefits for bringing new life to your worn parquet floors. It repairs scratches, dents, gouges and any discolouration that has developed over time. The process levels out any uneven planks or blocks for a smooth surface. Sanding removes old finish layers that may be peeling or worn. It prepares the bare wood to accept a new protective finish coating. By renewing the surface, sanding extends the usable lifespan of your original parquet floors. Our professional sanding services in London are far more affordable compared to fully replacing damaged parquet floors. With sanding, we can restore your existing parquet flooring to its former glory at a fraction of the replacement cost. Contact us to see how our parquet sanding services can benefit your specific floors in London.
Our Precision Parquet Sanding Process
Our parquet sanding crews are specially trained to handle these intricate floors. First, we evaluate the parquet's condition and unique sanding requirements. After protecting the surrounding areas with dust sheets, we use sanders designed specifically for parquet floors. Knowing the grain direction is crucial - we sand diagonally across the blocks, carefully avoiding sanding against the direct grain which can damage the parquet. The process involves multiple passes with sandpapers of varying grits to achieve a perfectly smooth surface. We fill any gaps between blocks if needed for an even floor. After sanding, the parquet is buffed to an ultra-smooth finish. If desired, we apply a new stain colour followed by a protective finish coating. As a final touch, we hand sand any minor areas to ensure flawless results. Our precision parquet sanding process restores the intricate beauty of your floors.
Parquet flooring exudes luxury and classic style. To maintain its allure, periodic parquet floor sanding is essential. Let Flooring Services London be your partner in preserving the timeless beauty of your floors. Contact us today at 020 70360625 for free advice and estimate and unlock the full potential of your London home.
Served Areas
City of London, Westminster
Barking and Dagenham, Havering, Newham, Tower Hamlets
Hackney, Redbridge, Waltham Forest
Barnet, Enfield, Haringey, Islington
Bexley, Bromley, Greenwich, Lewisham, Southwark
Kingston upon Thames, Merton, Richmond upon Thames, Wandsworth
Ealing, Hammersmith and Fulham, Hillingdon, Hounslow, Kensington and Chelsea