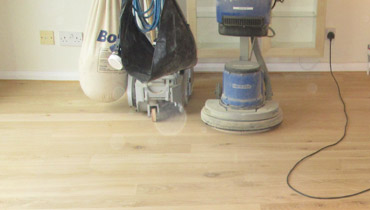 Engineered wood floors and solid wood are different things, although they may look the same when installed. There are some cases when one of them works better than the other and we are prepared to explain to you for informed choice. Now, if engineered is already your flooring of choice, we are happy to provide further information on how to take care of and maintain it, which includes engineered floor sanding. Being London's best wood flooring team, we are able to pay proper attention and solve problems of engineered floors, when it's hard for even trained eyes to define the extent of wear and tear or scathe. Our professional engineered floor sanding service is designed to take proper care of this innovative type of real wood flooring and guarantee long years of you enjoying your floor. Engineered floor sanding is designed to not only improve the appearance of the floor but mainly work on its condition, improving its stability, solidness, and durability.
Engineered wood flooring, like solid wood flooring, is made exclusively from real wood, but in difference of solid wood not from a single timber. There are many options for wood materials on the market. However, not all wood floors are equal, and understanding the specifies of each and every type of wood is our job and our key to perfect engineered wood sanding in London. The engineered floor sanding services we provide are tailored individually to each project and take into account the specifics of the floor.
Engineered hardwood is made of several layers of different types of wood with varying thickness, just like a sandwich. Wooden layers and non-finish plywood for additional strength are arranged perpendicular with overlap to provide amazing solidity and stability. This makes engineered wood the best option for humid climate areas like London and untypical or complex subfloors, even concrete. The top layer can be made from different types of wood and varying thickness, glued to the second layer, which makes engineered wood sanding delicate work and we are good at that. Many people assume that engineered wood and laminate are the same thing, therefore engineered wood cannot be sanded, which is not the truth. In fact, engineered floor sanding is possible up to three times in the lifecycle of a floor, depending on the thickness of the top layer.
Engineered floor sanding is designed to remove all imperfections on the surface of the floor, including scratches, stains, dents, marks, dirt build-up, an old finish. Since top layer is only 4 to 8 mm thick, it's not good for this type of flooring to be sanded too often and you need perfect job done. The professional sanding procedure usually removes 1/32 of an inch. Thus, if your floor has a 2 mm layer you can sand the floor 1-2 times. Preparing for engineered floor sanding is the first step, that consist of cleaning dust and additional care to furniture and nearby rooms. We make sure the top layer is even, hammer nail heads down, trim around the edges.
It's time to start with our modern dust-free sanders to create a smooth surface by delicately removing the old finish. The shine will fade and the color is gone. If needed, we go back to stained areas. Now it's time gently staining if our clients prefer certain color for the floor. There are many possibilities and our experts can help you choose for London based projects. Once the stain has dried, we apply finishing coat of floor glass and then buffing. This process has to be repeated 3 times for the perfect milky finish you want.
Engineered wood sanding may look impossible for certain floors because of poorly done previous sanding job or other reasons. Before drawing conclusions too quickly, make sure to contact our engineered floor sanding service team and arrange a visit from our specialists. Flooring Services London can give you expert advice and free estimate and appraise floor's condition. Just give us a call on 020 70360625.
Served Areas
City of London, Westminster
Barking and Dagenham, Havering, Newham, Tower Hamlets
Hackney, Redbridge, Waltham Forest
Barnet, Enfield, Haringey, Islington
Bexley, Bromley, Greenwich, Lewisham, Southwark
Kingston upon Thames, Merton, Richmond upon Thames, Wandsworth
Ealing, Hammersmith and Fulham, Hillingdon, Hounslow, Kensington and Chelsea