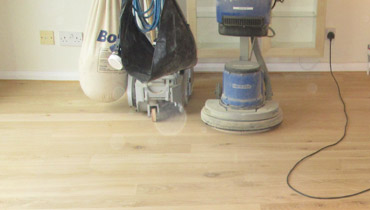 As London's leading wood flooring specialists, we provide expert engineered wood floor sanding to restore and protect your floors. Engineered hardwood is constructed with layers of wood adhered together for stability, making sanding a precision process.
When to Consider Sanding Engineered Floors
There are several common signs that your engineered hardwood floors may be due for professional sanding services. For example, if the floors appear visibly worn, heavily scratched, or have uneven discolouration that cleaning cannot fix, sanding can revive and renew the wood surface. If the protective finish has become dulled or worn away, especially in high traffic areas, sanding will prepare the floor for a fresh coat of protective finish.
Engineered floors that feel rough or uneven underfoot can also benefit from sanding to smooth and level the boards. Changing the stain colour of your existing floors is another scenario where sanding is required to strip the old stain and prepare for a new one. Finally, if you are transitioning between flooring in different rooms, our sanding services can expertly feather out the edges for a seamless match between old and new flooring. Contact us to determine if your engineered hardwood floors show signs they would benefit from professional sanding and refinishing.
Benefits of Our Engineered Floor Sanding
Our professional engineered floor sanding in London delivers multiple benefits for restoring your hardwood floors. It revives worn, damaged, or discoloured surfaces by removing the top layer of flaws. Our process eliminates scratches, dents, stains, and other imperfections in the wood. Sanding prepares the floor for the application of a fresh protective finish coating. It extends the usable life of your existing engineered hardwood flooring by renewal of the surface. Our delicate sanding maintains the stability of the engineered flooring layers, respecting the thinness of the top veneer layer. With our engineered floor sanding expertise, we can restore your floors to beautiful, like-new conditions while preserving their engineered structure. Contact us today at 020 70360625 to see how our services can benefit your specific engineered hardwood floors.
Our Engineered Floor Sanding Process
Our skilled team carefully handles every step of the engineered floor sanding process. First, we evaluate the floor's condition and unique sanding needs. After cleaning the floor area thoroughly and protecting furnishings, we use specialised dust-free sanders designed for engineered floors. With a delicate touch, we gently sand away the old finish and any surface imperfections while ensuring the thin veneer layer remains even. If desired, we apply a new stain colour tailored to your tastes. The floor is then sealed with three coats of high quality floor lacquer, with buffing between each to achieve a smooth, polished finish. With years of engineered floor sanding experience, we take the proper care to reveal the hidden beauty in your floors while maintaining the engineered construction.
Contact us today at 020 70360625 for London's top engineered wood floor sanding services. Our experts can restore your floors to beautiful condition.
Served Areas
City of London, Westminster
Barking and Dagenham, Havering, Newham, Tower Hamlets
Hackney, Redbridge, Waltham Forest
Barnet, Enfield, Haringey, Islington
Bexley, Bromley, Greenwich, Lewisham, Southwark
Kingston upon Thames, Merton, Richmond upon Thames, Wandsworth
Ealing, Hammersmith and Fulham, Hillingdon, Hounslow, Kensington and Chelsea