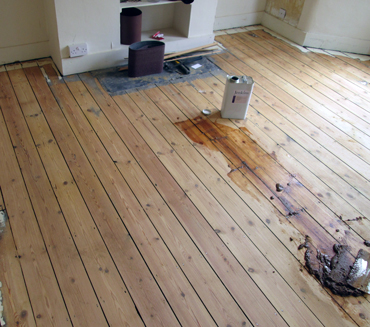 Discovering unsightly gaps in your beloved floorboards? Gaps between planks can ruin the look of your otherwise beautiful wood floors and allow dust and allergens to accumulate. Rather than leaving them as is or attempting risky DIY repairs, our specialised wood floor gap filling service in London provides reliable, elegant solutions.
With decades of experience rejuvenating hardwood floors across London, we are experts at identifying the causes of gapping and determining the optimal filling treatment. We go beyond simply repairing gaps; our goal is to elevate the durability, aesthetics, and insulation of your wood flooring. From subtle shifts that naturally occur in solid hardwood over time to more significant structural issues under engineered planks, we have trusted techniques to fill gaps for flawless results.
Our gap filling process, customised to your floors, leaves them stronger and more stylish than ever before. We take care to match colour tones and maintain the character of the surrounding wood. For especially wide gaps, we may recommend replacing planks entirely to retain structural integrity. Trust London's leading hardwood floor specialists to make your gapped floorboards a distant memory. Contact us today to schedule a consultation! We are dedicated to gap filling done right.
Understanding the Importance of Gap Filling
The longevity of your wood flooring hinges on several factors – from the flooring type to the wood species and installation method. We comprehend the challenges faced by your flooring due to wear and tear, moisture, temperature fluctuations, and high foot traffic. Our gap filling experts are here to swiftly and efficiently address these concerns.
Effective Solutions for Varied Needs
We acknowledge that every wood floor gap is unique. Our comprehensive expertise covers a range of gap filling methods, tailored to diverse situations. For smaller gaps, our time-tested technique involves a meticulous mixture of natural resin and sawdust. This blend not only seamlessly blends with your floor's existing elements but also offers a consistent finish.
Our commitment to quality extends to our modern sanding equipment that ensures precise wood floor gap filling. The application of resin and sawdust mixture with a spatula by hand guarantees a swift drying process and a smooth surface. This method is ideal for glued or nailed-down wood floors, providing enhanced stability and resistance.
For wider gaps or floating installations, our expert gap filling team employs wooden strips or slivers. This technique involves cutting and gluing strips of wood into the gaps, ensuring not only a snug fit but also exceptional stability.
Your Trusted Partner in London
Whether you're dealing with gaps due to moisture, wear, or shifting boards, our gap filling service offers more than just repair – it's a transformative process that reinforces your floor's structural integrity. Ready to reclaim the flawless beauty of your wood flooring? Reach out to us at 020 70360625 and let our skilled professionals guide you towards a durable and harmonious solution.
Served Areas
City of London, Westminster
Barking and Dagenham, Havering, Newham, Tower Hamlets
Hackney, Redbridge, Waltham Forest
Barnet, Enfield, Haringey, Islington
Bexley, Bromley, Greenwich, Lewisham, Southwark
Kingston upon Thames, Merton, Richmond upon Thames, Wandsworth
Ealing, Hammersmith and Fulham, Hillingdon, Hounslow, Kensington and Chelsea