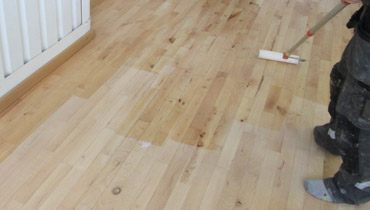 Flooring Services London portfolio includes a lot services, starting with sanding and repair and finishing with floor sealing and maintenance. The sealing service is pretty essential for amazing looking floors being the finishing touch. While sanding is pretty "rough" job and requires heavy-duty equipment and hard work, floor sanding is all about the details. In some sense it may be called science – combining the type of wood flooring, being parquet, solid wood, etc. and proper finishing products in correct proportions with outcomes, comply with client's taste. Well, there aren't certain classes you need to attend and big book you have to read, it's more like an innate talent and we have that in addition to many years of experience in London.
We already acquaint you with basic stages of wood floors sanding, gap filling and staining and floor sealing is basically the last step you have to take to the perfect looking flooring. Main stages like sanding leave you with perfectly smooth floors, but actually bare wood. The point of sealing consist of applying finishing layer using products with different final effects, depending on type of flooring and customer's desires. Sealing the floor using quality products like lacquers or oils is just as important as quality of wood itself, since top layers are closer the damage causers, prevent scratches and signs of worn and high traffic and ensure longer durability of flooring. For our London floor sealing projects we always use high quality products we can find on local market, created by flooring industry leaders Bona, Osmo and Junckers.
We believe, that everything is possible (without being too risky, of course) and that is the reason we have such a wide range of floor finishes including water-based single component clear lacquers, safe and suitable for domestic use, also two-component commercial grade lacquers. We are happy to announce that according last trends we use also completely new range of natural lacquers, which do tint the color of bare wood to minimal for saving its genuine organic beauty and all these warm holes, knots and natural stains that tell stories and make it one of a kind flooring. So, if a fan of rustic style, you can make your London home artistic and unique simply by natural lacquers floor sealing.
Hardwax-oil is the real deal. It makes wood flooring not only pretty looking but also super durable. Although it may look harder to look after and clean, once your floors are waxed, they need years and years to next floor sealing. We improve sealing system with our professional job and by using quality products by Osmo and Bona. Since we believe, that safety is most important, the products we use are low VOC products and contain natural wax. For wood flooring long life we advice you to take care and clean properly. Get in touch with a member from our team on 020 70360625 for further information about cleaning. If you live in London and surrounding areas we provide excellent maintenance service, including polishing, recoating, re-oiling, wax-based buffing.
Served Areas
City of London, Westminster
Barking and Dagenham, Havering, Newham, Tower Hamlets
Hackney, Redbridge, Waltham Forest
Barnet, Enfield, Haringey, Islington
Bexley, Bromley, Greenwich, Lewisham, Southwark
Kingston upon Thames, Merton, Richmond upon Thames, Wandsworth
Ealing, Hammersmith and Fulham, Hillingdon, Hounslow, Kensington and Chelsea