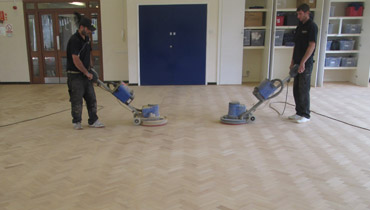 No matter if office modern office building with present-day furniture and high-tech design or small Italian restaurant we old days charm, wood flooring can add a twist of luxury, elegance and beauty to every room. When you meet customers and clients every day, you probably want that flawless room décor as it works like your business card and great example for your work performance and attention to details. Flooring Services London knows what hard work means and our London based experts will create that great working atmosphere, where it's a pleasure to cater for clients and to spend the workweek simply by commercial floor sanding.
If this amazing parquetry is bequeathed by your grandmother, you definitely want to save its antique charm for fascinating bistro atmosphere. Or you want some luxurious mahogany flooring for the ultimate professional outlook? Don't worry we love wood flooring as much as you do and we will do all the best to make floors shiny new by preventing them to be worn and damaged quicker. It only takes a simple but effective process of sanding and we can do that for you if London based. As simple as that!
Call us eccentric, but we think, that only a few things are as exciting as newly polished wood floors. They are timeless feature, that represent London's heritage in a great way, so when professionally done, they can be associated only with professionalism, character, care. No compromise with the quality of work is acceptable here! We understand why you prefer wood flooring for the office space. Not only it looks amazing, but it is easy to maintenance, so don't cost a lot of money and hygienic and insures healthy and friendly working environment for staff, co-workers, visitors.
Commercial floor sanding is the solution of worn, scratched and damaged flooring for room with high traffic and we provide affordable prices and even free estimate for London area. Sanding will restore lost beauty of wooden flooring and renew its appearance, making it durable and clean looking for years. If you have some new ideas for your old looking wood floors, maybe certain colors and finishes in mind, sanding is the main process of creating that smooth new surface, ready for staining and re-finishing.
Our pros use only high quality equipment and products, which do the job quick but pretty fine and detailed, so we won't interfere your work. Department stores, malls, community centres or village halls, classrooms and gymnasia, gyms and sport centres, hotel, restaurant, nightclubs, museums, galleries, office building, all of them based in London area, our portfolio is based on endless positive feedback. Call us on 020 70360625 for further information!
Served Areas
City of London, Westminster
Barking and Dagenham, Havering, Newham, Tower Hamlets
Hackney, Redbridge, Waltham Forest
Barnet, Enfield, Haringey, Islington
Bexley, Bromley, Greenwich, Lewisham, Southwark
Kingston upon Thames, Merton, Richmond upon Thames, Wandsworth
Ealing, Hammersmith and Fulham, Hillingdon, Hounslow, Kensington and Chelsea