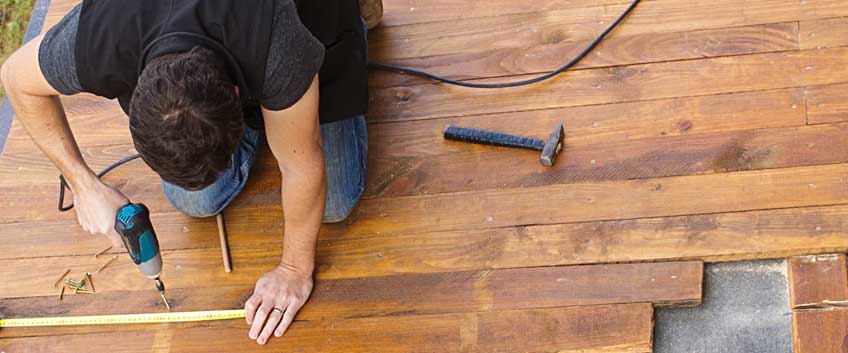 Have you checked Part one of our synthetic vs hardwood decking guide? If not, be sure to have a look, because you can find out about the basics of what synthetic and hardwood decking really is and why decking is an amazing option for your garden in general. Today, we are continuing with the topic and we will help you understand better the main differences between synthetic and hardwood decking and which of them both options is a better solution for your own project. Keep reading, if you are intrigued!
About the look
Of course, if you are a fan of the highest natural look, then hands down, hardwood decking is everything you need. Having the natural beauty, elegance and class of real wood in your garden is something everyone would enjoy for sure. Of course, natural beauty comes at a higher price, but if you are ready to go this extra mile, then be sure to bet on hardwood decking. In addition, the look of hardwood decking is changing with every season and hardwood is ageing beautifully and with dignity. On the other hand, if you want to be bold and unique and if you want coloured decking that has a matt or gloss finish, then your best option is synthetic decking that can provide you with a one-of-a-kind and modern look.
Difference in price
Of course, there are many cheap and low-quality synthetic decking options on the market, but there are low-quality hardwood decking options too and they may cost a lot of money. Which really represents the best value for money? Like many things in life, you have to look for a reputable and reliable manufacturer or supplier, so you can be sure of the sustainability of the materials offered and have the peace of mind you are spending your money on quality. Overall, there is not an impossible mission to pick up a high-quality synthetic or high-quality hardwood decking at a decent price to fit your budget, so there is not such big of a difference in price that may swing your decision on this dilemma.
Durability
Having the right maintenance and care is the key to having hardwood or synthetic decking that lasts for a long, long time. Of course, there is no getting away from the fact that synthetic decking requires less maintenance and care than hardwood one, so if you are a bit lazy and do not have enough time to invest in maintenance, then synthetic decking is most probably your best choice.
Installation
When it comes to fitting your deck, no matter if you choose synthetic or hardwood decking, both your options are expected to be easy to install. Of course, you have to be sure you choose a reliable and experienced flooring company to help you out with your plan and project. No matter your budget, requirements and personal preferences, both synthetic and hardwood decking can make a great and very beautiful asset to any outside, garden space and make a real difference.