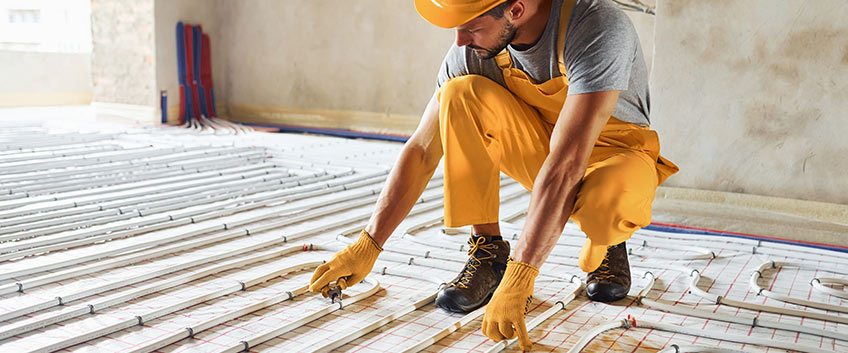 Since the temperatures have dropped down this winter season and the fact that warmer weather in the UK is definitely not around the corner yet, it is safe to say that everyone is looking for the best and most cost-effective ways to keep their homes warm and toasty, while the heating bills don't break the bank. Well, this is, indeed, a bit of a challenging task. However, the good news is that there is definitely a way to get the best from both words – warmth and cosiness for your home and bills that don't cost a little fortune. Do you wonder how? Well, the answer is simple, all you need to do is have an underfloor heating system installed under your wooden floor. Do you want to learn more about underfloor heating and how it works with real wood flooring? Then make sure to stay tuned and continue with this helpful article.
What Is Underfloor Heating?
As the name suggests, an underfloor heating system is a heating system that is installed under the floor. What underfloor heating can offer and provide you with is a lot of warmth, cosiness, comfort, energy efficiency, low costs, maximum control, easy maintenance and installation. As you can see, underfloor heating comes with a lot of benefits and advantages over other sorts of heating systems, especially its cost-efficiency is the main reason why people opt for underfloor heating. While many would suggest that underfloor heating cannot make your entire home warm enough, this is not the truth. Despite the fact that this type of heating system is installed under the floor, it is keeping only your feet toasty, but the warmth distributes evenly around the whole area. Due to its high energy efficiency, underfloor heating pays off and comes with a lot of value very shortly after installation. Especially when it comes to larger rooms and areas, underfloor heating is the only heating system that is an optimal solution and ensures lower cost compared to other conventional heating systems.
Underfloor Heating and Wood Flooring
In fact, underfloor heating can be installed under the majority of floor coverings. In case you have real stone or tile floors at home, underfloor heating is a great way to keep the floors extra-warm, considering the fact that such floor coverings are naturally cold. However, if you want to make the most of your underfloor heating system and experience its cost-efficiency to the fullest, while the heating bills are kept on the low, make sure to choose underfloor heating for under your wooden floor. What makes underfloor heating and real wood flooring a perfect match is the fact that wood has a high rate of remission and heat-retaining. This pretty much means that this natural material if very effective at keeping the warmth from the heating system in the room and not allowing cold drafts of air to enter the room. At the same time, wood flooring ensures that warmth will be evenly distributed throughout the entire room.
Underfloor Heating Installation Under Wood Flooring
In case you have an already existing and installed wooden floor, unless you don't have to get rid of it and have a new one installed, the only way to have an underfloor heating system installed under the floor is to have the floorboards lifted. It sounds like a lot of work and it may cost a bit more for the whole project, however, underfloor heating is totally worth it and it will pay off in a short period of time. Therefore, whenever you are planning an installation of a wooden floor, be it solid wood, engineered wood, or parquet one, always make sure to consider the installation of an underfloor heating system too as this is the best moment. Underfloor heating can be installed under all types of real wood flooring, however, for maximum efficiency and comfort you are recommended to have it installed under engineered wood flooring. While the type of real wood flooring is definitely not affecting the efficiency of the heating system, the heat from the system may affect the condition of the floor in a long term. Wood, being a natural material, has a natural response to changes in its environment. Temperature fluctuations are one of the factors affecting wood and may cause some issues. However, engineered wood flooring is significantly less prone to issues caused by temperature fluctuations. Thanks to its smart and advanced structure, engineered wood flooring is a great option for underfloor heating.
Wood Floor Repairs and Underfloor Heating
Before you consider the installation of underfloor heating, always make sure the wooden floor installed on top of it is in perfect condition. This is very important because it can totally affect the efficiency of the heating system. Wood floors that are in poor condition, distressed, and have gaps are definitely not as good at retaining the heat as floors that are well-maintained. This is why, in case you have an underfloor heating system already installed, you should take good care of your wooden floor too and prevent the occurring of gaps and other imperfections or if such issues arise, always take care of them. Floor gaps happen over time and due to everyday use, high traffic, other factors. They not only can affect the condition, durability, lasting power, and stability of the floor but also decrease the cost-efficiency of the underfloor heating system. Gap filling is a professional service designed to take care of these gaps and bring back the floor's surface to its strong, even, and uniform condition.
Wood Floor Insulation and Underfloor Heating
The best way to increase the efficiency of the underfloor heating system to its fullest potential is to have your wooden floor insulated. Wood floor insulation is the process of installation of a special underlay under the floorboards. It ensures great sound-proofing properties of the floor, it ensures the stability and solidness of the floor, its durability, and it also ensures amazing cost-efficiency of the underfloor heating system. Underlay insulation will not only stop drafts of cold air from entering the room through the floor but also will guarantee that all the warmth from the underfloor heating system is kept in the room and does not escape the space through floor gaps.