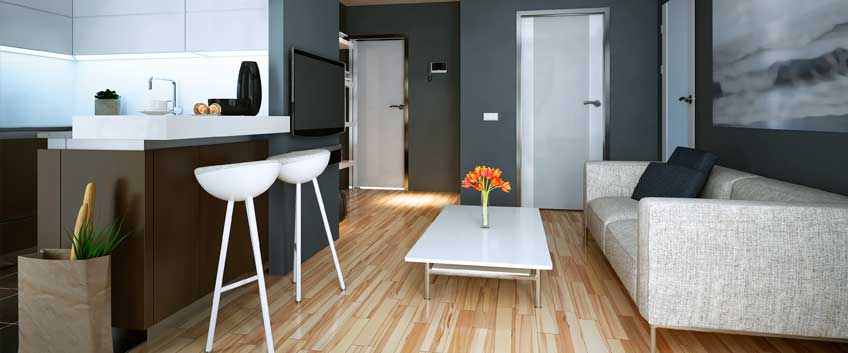 Oak wood flooring is a very popular choice for many homeowners because of the specific atmosphere, it adds to every room and space. It brings warmth and coziness, classic beauty and elegance. Oakwood is also a very durable and hard-wearing choice. It is easy to see why so many people are admiring the traditional and rustic beauty of natural oak wood species and why they incorporate it in their home décor and design. Well, the best part is that oak wood species are also very versatile in the way they look and they feel they have. Having a very distinctive and individual character, there are no two oak wood floors that look exactly the same and create the same atmosphere. Fun and intriguing, oak wood species can work in a variety of home decors and styles and look amazing, making a statement and boosting the beauty of every style, from minimalistic to country and everything in between. Here are our top three ideas on how to make your home style stand out with the help of oak wood flooring.
Contrast and complimentary furniture
Having oak wood flooring doesn't necessarily mean that all of the furniture pieces and woodwork in the room have to be made of oak wood species too. Co-ordinating the woodwork in a room is not the only way to create an appealing and beautiful setting without the place looking too cluttered and overwhelmed. There is nothing wrong with choosing different wood species for different accents in a room and there is nothing wrong with creating harmony somehow by playing with contrasts. Since the design techniques for oak furniture have improved a lot in the past few years you can expect really high quality with unique designs and it won't be difficult at all to find a complimentary oak wood flooring option or to create an interesting contrast that is not too intimidating.
Contemporary or traditional
Although the first association when envisioning oak wood flooring in your head is probably going to be traditional and classic style, as we have already mentioned, oak wood flooring is really versatile and diverse and comes in a great variety of styles. So even if you are a fan of contemporary home décor, you can still choose and benefit from oak wood species. Oakwood species look amazing in both traditional and modern setting but choose lighter shades of white oak for the modern home and the warm and rich tones of red oak for a more traditional and cosy setting.
Light vs dark
Oak wood species come in a great variety of tones, shades and hues that are naturally found and you can feel absolutely free to decorate the room in the colour scheme of your choice with the help of wood flooring, from very light to very dark. Oakwood species with warmer tones look great mixed with creams, navy and gold, while the cooler tones oak wood is a match made in Heaven paired with whites, greys and occasional pops of colour such as lime green, turquoise and even red!