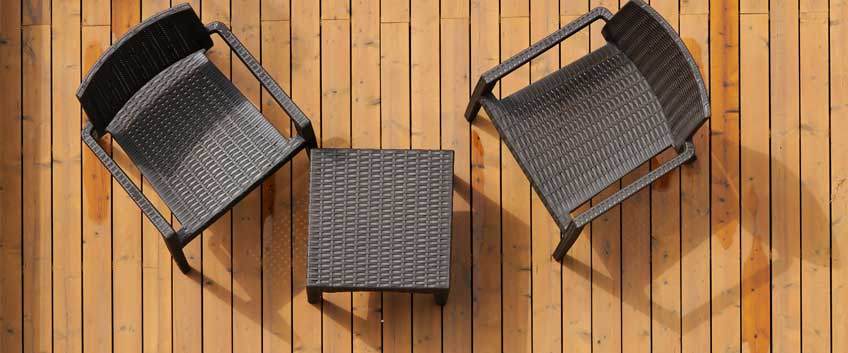 Your outdoors are usually not your biggest priority, since you want to spend your money, time and energy on choosing the right wood flooring for the inside of your home, picking the right colour, grain, etc. Be aware of the fact that your outdoors, be it a balcony, garden, etc. are as important as the indoor parts of your home. Choosing the right decking flooring for your garden lounging space or your balcony is the best solution, but still a decision you cannot take that lightly. With so much choice and so many ranges of different decking options on the market, you might feel a bit overwhelmed, because of that today we introduce you to a great decision that definitely worth considering it – yellow balau decking.
Making the most of your garden, balcony or other outdoor space of your home is one of the best decisions you can take. Utilising such additional space, no matter if your goal is building your own lounging area, a play area for your children, or just some additional space for dinner in spring and summer is an investment that definitely pays off. In order to achieve full functionality and a beautiful and stylish appearance, investing in a yellow balau decking is definitely the right decision.
Yellow balau decking is a fabulous way to transform your outdoors. Unlike the common indoor domestic wood flooring, decking is created to be highly resistant to the outdoor environment such as high humidity and moisture levels, rain and snow, extensive sunlight exposure, high-temperature changes, etc. Decking can be composite or hardwood and is damage resistant in most cases, looking and feeling good even in a severe outdoor environment the regular indoor wood flooring will struggle a lot with.
Yellow balau decking is a very affordable, yet quality and stylish option you can bet on. It is similar in many ways to the commonly used for decking teak, it is a completely natural product that has a high content of oil that makes the decking naturally resistant to extreme weather, bugs and damages like warping, twisting, etc. Yellow balau decking is a really dense solution and ensures a long-lasting effect.
One of the biggest advantages of yellow balau is the fact that it is light-coloured and because of that have the ability to visually make smaller spaces look bigger and wider. By creating this illusion of more space, it is a good solution for smaller outdoor spaces like small terraces, balconies and gardens. If you want to achieve a real eye tricking effect, choose narrow planks of yellow balau that are laid lengthways along the long side of your space.
On the other hand, if your outdoor space is large and wide enough, yellow balau decking is once again a perfect solution too, because it will create a focal point and a great accent. If you are lucky enough to have a pool, yellow decking offers the perfect surrounding for achieving a great and very relaxing lounging area.