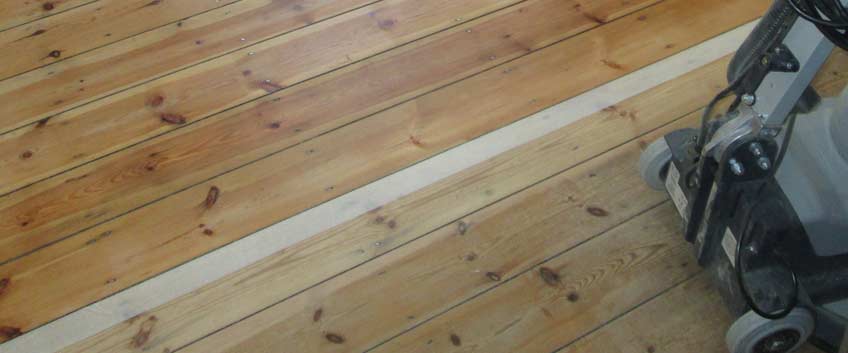 Having in mind the wooden flooring you presently have at your place, or in the house you have just purchased, you are probably wondering if its sanding will be a good option. Although from environmental point of view it is better to keep your old flooring and just revive its look, rather than changing it and spending a lot of wood for a new one, sometimes it is really not worth all the efforts. Here are some tips that will help you decide.
First, you have to consider what the age of your present flooring is. If you have installed it pretty soon, and you have not bought the best quality material for it, it will not be worth spending money for sanding it and for improving its look. Because of the competition on the market nowadays, it is possible to purchase high-quality wooden flooring at lower price and thus have a quality product at your home. So if you can afford new wooden flooring at lower price, then this is a better idea than to sand your old flooring.
But if you have a pretty old flooring and its quality is excellent, then it is a good idea that you have it sanded. You have to check if it is natural or engineered wood flooring at first. This is really important, because only the engineered wooden flooring can be sanded many times. And this is why before you proceed with the sanding of your engineered flooring, you have to check what the quantity of the top layer that is left is before you sand it again to the core board. If you can not define by yourself what the type of your flooring is, then turn to an expert. If you do not ask a specialist, you might sand the whole top layer of the flooring, and thus damage it. This in return may have a bad effect – you will have to exchange the flooring earlier than necessary.
If, on the other hand, your flooring is natural wooden flooring, then you have to check what its state is before you proceed with the sanding. You have to check for example whether If there are broken planks, whether they can be exchanged or just fixed. Also, you have to check on the market if you will be able to find a matching color of boards, will they be the same size like the others. You also have to check for any gaps, because if there are some, you have to fix them. Otherwise, when the floor gets sanded, they may open even more. You have to take all these things into account before you proceed with the sanding, in order to get a nice final result at the end.
When you have taken the final decision to go ahead with the sanding, you should be prepared that this is not such an easy task. The process takes time, and also a lot of dust may appear in the room. You just have to be sure that this is exactly what you want and you have to be convinced in the final result. Before the real process of sanding, all the furniture has to be moved out of the room, the blinds have to be covered in order not to get dirty Be prepared for some dust, but the final result will be worth at the end.
You also have to figure out whether to turn to the professionals or to use your own skills to do this. Of course, calling a professional flooring company will reduce the time for this service, and also the work will be performed with the needed quality. But of course turning to a professional is more expensive than if you try to do the sanding by yourself. And if you finally decide to do the sanding by yourself, you have to supply all the needed equipment for this, and you also have to be ready to spend a lot of time on this task. You also have to be sure in your own skills and experience in this field, in order the final result to satisfy you. If you are not convinced enough that you can handle this, then you should better not start. It is better to spend some more money, that to have an awful result at the end.
The beautiful final result is a combination of your skills or the flooring company's experience and also of the quality of the flooring that is going to be sanded. The good job depends a lot on the preliminary preparation of the flooring – gaps, broken boards, etc. After that, the proper work with the equipment will make your flooring look beautiful again. After that, you have to apply finish on the sanded flooring and the job is done.
Do you agree going through all this in order to have your floor sanded? If yes, go ahead with the procedure and enjoy the new look of your flooring. If not, then consider other decisions as for example changing the flooring with a new one. The sanding is not a simple process, it requires not only time, but the needed skills for it. And for the best results, you should always turn to the professional companies.