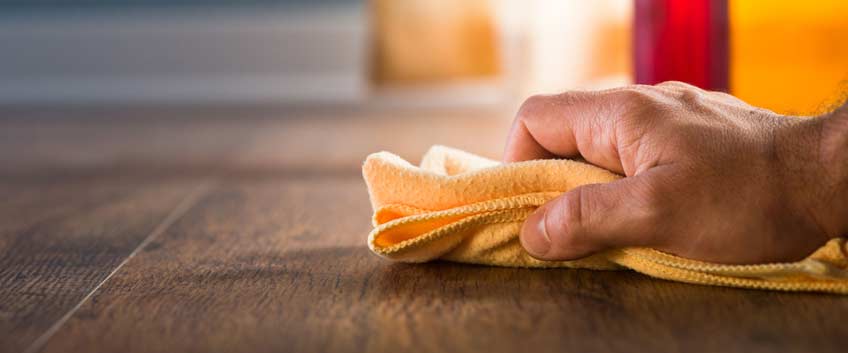 Although wooden flooring can be a long-term investment, it needs special care and treatment. But with appropriate maintenance, it will serve you for a long time and it will look as if it has just been installed in your home. The waxing of wooden flooring is much easier nowadays than it had been some years ago. There are many types of detergent, so waxing nowadays takes less time.
In this article we will list some information about good maintenance, and tips for the cleanness of your floor:
All the legs of your furniture should be with safety pads. They will prevent the flooring from scratching and damaging.
Use doormats in front at the entrances of the room – they protect the flooring from moisture and dust.
You can put a carpet on the flooring where there are a lot of people passing daily– in this way, you will also protect it from dirt.
Sweep and vacuum the carpet and the doormats regularly, to remove all the dust they have collected.
Keep in mind that when you put a carpet on the flooring, the flooring under it will not change its colour, because it will not be exposed to sunlight. The other part of the flooring, however, will have direct sunlight on it, so try to remove the carpet from time to time, to move it, in order not to have differences in the flooring's shades.
If you have decided to install wooden flooring in your home, you have to avoid humidity in these places. Check its level regularly and try to control it.
If you have pets at your home, be careful with them, because they can leave scratches and damage on your hardwood flooring. You should trim their nails regularly, and not leave them alone in a room with hardwood flooring, because they may cause some trouble.
Some of the household appliances, that work with water and may cause water spilling – dishwashers, washing machines, radiators, are not good for installing in premises with hardwood flooring. Also, be careful with plants, it is better to take care of them in the garden or on the balcony, in order to avoid water spills.
If a spill appears on the flooring accidentally, wipe it up immediately.
It is not a good idea to walk inside with shoes, because of scratches and damages that they can cause. Try to use shoes at your home that are intended for internal usage.
Use products for the cleaning of your wooden flooring, that are intended for wooden floorings only, not products for tiles or for other surfaces.
When you need to move furniture, avoid sliding it on the floor, because this may cause damage. The best decision is to lift the piece of furniture and move it that way.
The maintenance of the floor is connected with regular vacuuming and flooring. Be careful not to cause scratches with the vacuum machine. With moping, you should try to put less water to avoid spills and humidity.