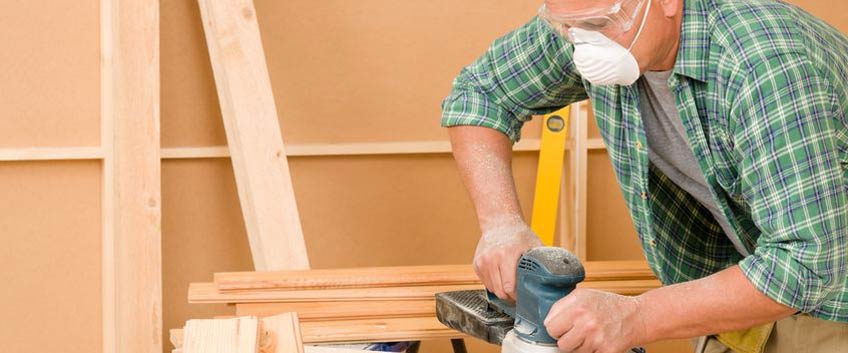 If the present state of your flooring is not very good, if it is covered with scratches, then the moment has come to have it sanded. This is the advantage that the owners of wooden flooring have, they can restore its look using the method of sanding. And after the sanding, this can help you not only with the vision of your floor, but also will save you some money, because you will not have to totally change your flooring.
The better option for having your flooring sanded is to hire an experienced company or flooring specialists – this will guarantee you the best possible final result. But if have limited budget and you do not want to spend additional sum of money, then you can do the sanding yourself. You have to hire the sanding machines required for this operation. But in order to perform the sanding by yourself, you have to be sure in your own skills and abilities. If you are not, then you'd better not start, because you can cause more damage on the flooring compared to its present scratches. So be careful when you take the decision to fix the things alone in your home.
In order to do the sanding by yourself, you have to take in mind the following precautions:
You have to ensure that you wear a mask that protects you from the dust, and also protection for eyes and ears, because the sanding can be quite a messy and dusty work, and you have to protect yourself against this. Use modern technical equipment rather than cheap machines, because this will save you a lot of work and dust too.
Open the windows, in order the fresh air to enter the room. You can also use ventilation that can be used in such cases.
Check exactly what is the method of work of the machines you have hired. Read the instructions very carefully and keep in mind everything that is written in them. Otherwise the job can turn out to be quite dangerous.
Keep all the cables away from the from the machines, in order not to cause an electric shock.
There is a risk of fire during the sanding process, and you also have to be very careful about this. In order to prevent this, you should always check the level of dust in the bag. When the bag is more than half full, you have to exchange it right away. You should also not leave the full dust bag in the machine. Change it as soon as possible.
The sanding can be quite a noisy job, that is why you should try to work more during the day, rather that in the evenings, because you should not bother your neighbors too much.