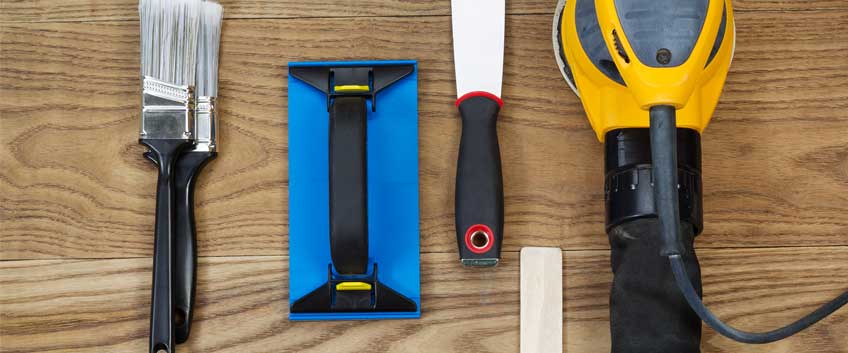 You are looking for a great way to bring your old, tired and worn wood floors back to life? Well, refinishing is the best way to do so! Wood floor refinishing is really working its magic, getting rid of all minor imperfections, removing the dull and worn appearance and making your floor look brand new, just installed. But this is only the top of the iceberg because, besides the fact that refinishing is beneficial for your floor, it is also a really stress-free, smooth, easy and time-saving process. In fact, wood floor refinishing is so easy that you can try to attempt it on your own and we are sure that the results will be excellent. Here is a list of all tools and everything else you are going to need, if you are enthusiastic about a DIY refinishing project all by yourself!
Pre-sanding cleaning equipment
Making sure that your floor is clean and uniform before sanding it is a very important thing that will make all following process easier and smoother. In the long run, cleaning is also very important, especially after the sanding process, when you will end up with sawdust to get rid of, otherwise, you risk the dust and dirt scratching the bare wood as well as dust particles remaining trapped in the finish. Vacuum cleaner, mop, soap and water are now your best friends, make sure to prepare yourself with a specially designed wood cleaning product too.
Floor Pry Bar
While you are prepping for the upcoming process of refinishing, you will also need to remove all baseboards around the room, where refinishing is planned, to prevent them from getting scuffed, scratched and damaged during the process of sanding.
Sanding machine
It is completely normal that you do not possess a sanding machine stored in your garage, after all, sanding is not your everyday job, right? Instead of buying one that you are most probably going to use a couple more times in your life, we recommend you rent a sanding machine from your local store/showroom. You need a sanding machine for sanding the floor down to bare wood and removing the old finish. A high-quality sanding machine with a vacuum attachment is highly recommended and will make the whole process a lot easier.
Sanding edger
Besides the fact that you will need a sanding machine, you also need a sanding edger for the corners of the room and the edges of your floor. This is a smaller sanding machine that is meant to take care of the floorboards along the walls of the room. It is much recommended to rent one for ensuring a perfect outcome and an even and uniform appearance.
Sanding belts
A variety of sanding belts with different grits is a must. You want to change the sanding belts often, so the whole process is running smoothly and you can achieve the perfect result.
Carbide paint scrapper
Sometimes you will need to do some sanding job by hand and in this case, you need to prepare yourself with a carbide paint scrapper too.
Buffer
After the sanding process, the buffing will help you remove the dull and rough look of bare wood and achieve vibrant wooden beauty and a smooth finish.
Wood floor finish
When it comes to finishes, you are really spoilt of choice. Take your time to do research and find the best one for your needs and preferences.