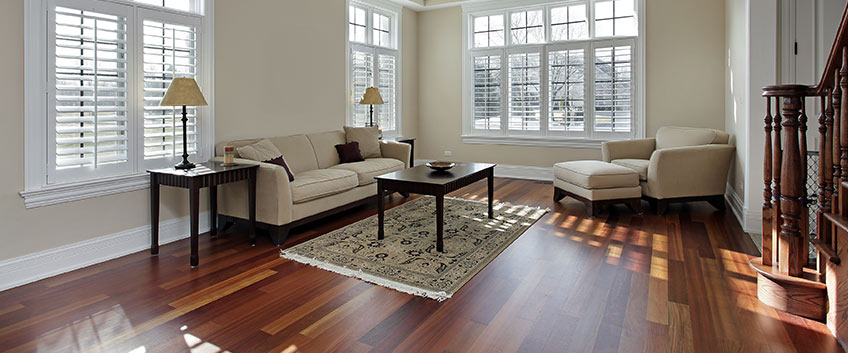 Just go to your local grocery store and stare for a bit at the newspapers and magazine area. You won't be surprised to find out that almost every interior design magazine includes a cover with a beautiful, elegant, or even modern-looking and a bit more creative wooden floor. Well, wood floors come in many forms, colours, textures, effects, and finishes, but one thing is for sure – they are definitely worth it and there is no wonder you can spot them as the "cover girl" of every interior design issue. Real wood floors never go out of style. Their natural, mellow, yet exciting and statement beauty can fit into every interior and add value to every space. The upkeep is easy, thanks to sanding and refinishing you can have your wooden floor looking like it has just been installed for literary forever, they are soft underfoot and definitely very comfortable, cosy, and enjoyable, wood floors simply don't have any drawbacks.
There is no wonder that just about almost every room in a house you see these days, no matter if it comes to a magazine cover, a home improvement and makeover TV show, or a popular interior design blog, features a beautiful wooden floor. People are definitely going cray-cray for real wood flooring and this is cold news because people have been like that since the invention of the parquet flooring in the faraway past. When parquet wood flooring was first invented in the Versailles palace in France, everyone wanted to own such a beautiful floor that is really easy to maintain and keep clean at the same time.
However, back in the days, real wood flooring was a luxury that was reserved only for the royal family and later on for the really wealthy ones. Thankfully, this is not the case anymore and everyone nowadays can enjoy the magnetic beauty and unbeatable charm of real wood flooring in their home or their workspace. The current popularity of real wood flooring cannot be denied and this is truly a wonderful and deeply-rooted tradition of wood flooring lovers and fans for the past few centuries. Truly, an amazing phenomenon that stood the test of time, something really unusual for such a dynamic and always changing field like interior design and trends. In this case, wood flooring is doing something right, since it is still winning over the hearts of millions.
The current popularity of real wood flooring is partially dictated by the home design crush at the moment – farmhouse style. There is no doubt that the farmhouse style is getting more and more popular thanks to its natural and simple charm, a dash of romance, a lot of cosiness, and this "home sweet home" magic it brings. Also, there is no denying that wood flooring is simply the best compliment to this interior style. However, wood flooring is not only loved and highly sought after just because of its appearance and how well it suits the modern farmhouse style. Wood flooring is connected to the homey feeling of cosiness on an even deeper level, because wood floors are believed to be more forgiving, convenient, comfortable, warmer compared to a bunch of other popular floor coverings, including tiles and stone.
One more great reason why currently trendy interior design fans are going for wood flooring is the popularity of open house plans nowadays. Donald Lococo, D. C. architect of Donald Lococo Architects, shares: "Rooms that flow into one another, like a kitchen and family room, make it harder to transition from one-floor material to another, so the seams between stone and wood are more difficult to implement."
There is also no denial in the fact that real wood floors are considered to be a great investment and only they can increase the value of a property so dramatically. So wood flooring is highly sought after not just because of its appearance, durability, long-lasting power, and the comfort and functionality it guarantees, but also for the value it has. Wood flooring never dates itself and remains relevant, no matter the trends at the moment, no matter what. In the long term, there is no doubt that wood floors are a better return on investment. When installed properly and maintained regularly, real wood floors are designed to last up to a whooping whole century and if this is not a good investment, we expect you to share something else that is.
Regular and proper maintenance and care can really help you enjoy flawless looking and long-lasting wooden floor. While water stains and damage are the major concern of homeowners, when considering the installation of a wooden floor, the truth is that issues and damages caused by water and humidity are rare occasions. In fact, the biggest culprit and one of the main reason why people tend to experience quicker wear and tear and issues with their wood flooring is due to wearing shoes inside the house and especially when little pebbles and dirt get caught in shoes and then leave scratches and marks when dragged around the house. So next time, please don't blame all the scratches and dents on your pet's nail and better stop wearing shoes inside the house.
Another great maintenance tip is putting protective felt or rubber pads under furniture legs, especially when it comes to furniture pieces that are moved over the floor's wooden surface frequently, such as chairs, table, etc. These protective pads cost just a few pennies, but you will be surprised at how much of a difference they make for protecting your wooden floor from scratches, dents, and marks left by heavy objects and furniture.
Getting a few protective mats and placing them strategically in areas of high traffic and heavy footfall is yet another great tip for protecting your floor and ensuring it will look and feel its best for decades. Cleaning the floor regularly and properly is a must for its longevity and durability. Avoid using too much water, better rely on a slightly damp mop or a broom with softer bristles. Use the vacuum machine attachment that is designed for hardwood flooring. Also, choose only cleaning products that are designed especially for wood floors. They contain a neutral pH, which is great for the finish and won't degrade it.