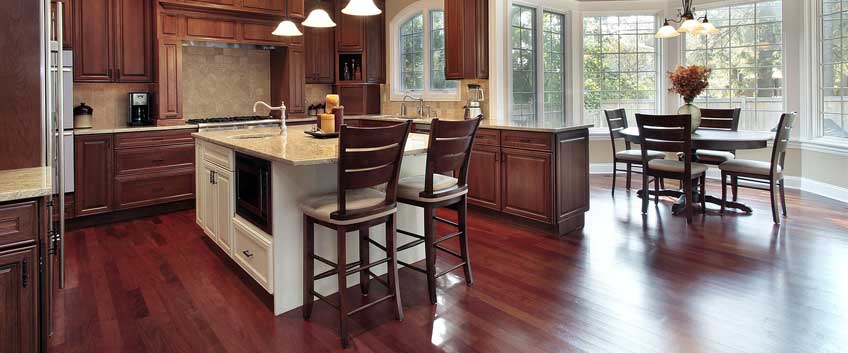 Ahh, we will never be tired of the beauty of wood. In fact, we love wood so much at home that we purchase not only wooden floors, but also wood worktops for the kitchen. Can you ever have too much wood in the kitchen? We are in doubt that you can! After all, wood floors are such a versatile feature you can consider for your home and they can match particularly any possible style, interior design and personal taste. If too much wood is too much for you, then you can go for granite or stainless steel and stay away from all the wood obsession. However, if you are addicted to wood as much as we are, then worktops can easily be matched (or mixed and matched, if you prefer so) with floors. Stay tuned to read about our recommendations when matching and mixing wood features around the kitchen.
First of all, let us remind you once again that wood floors are a great option for the kitchen. More in-depth – we recommend you to have a look at the engineered wood floor alternatives. Engineered wood looks exactly the same as the good old solid wood timber when installed, however, it comes with a very durable and solid construction that is more suitable for areas where humidity, frequent temperature changes and high traffic are issues – areas like particularly every existing kitchen under the Sun! Unlike solid wood, engineered wood is made following the concept of contraction and bending reduction due to the impact of moisture and humidity. In addition, it is a completely natural wood product and because of that very hard-wearing and long-lasting. Now let's talk a bit more about aesthetics!
What to choose for light colored oak
Light-coloured oak floors are usually coming with a lot of unique character and look. The chances that you have a great natural pattern at floor level with light-coloured oak are big and you are a proud owner of a real piece of art made by nature and an eye-catching feature for your kitchen. With such an attractive look under your feet, you either should go for worktops that completely match the floor, if possible purchase from the same manufacturer, or for worktops that are very simple and clean.
What to choose for medium colored oak
Medium-coloured oak comes with great, very rich and warm shades of brown and golden tones that are especially suitable for kitchens, creating a cozy and inviting setting. Compliment those beautiful warm tones with wooden worktops in the same tones family.
What to choose for almost black oak
Add a bit of contrast to the almost black oak floor by choosing a nice, light-coloured worktop (unless you choose another feature in the kitchen, for example, cabinet doors, to be the pop of lightness). Dark, almost black tones are going to visually make the room appear smaller. On top of that, such dark and deep shades could be too dramatic sometimes, so in order to make sure the final look won't be too overwhelming, add a bit of contrast.