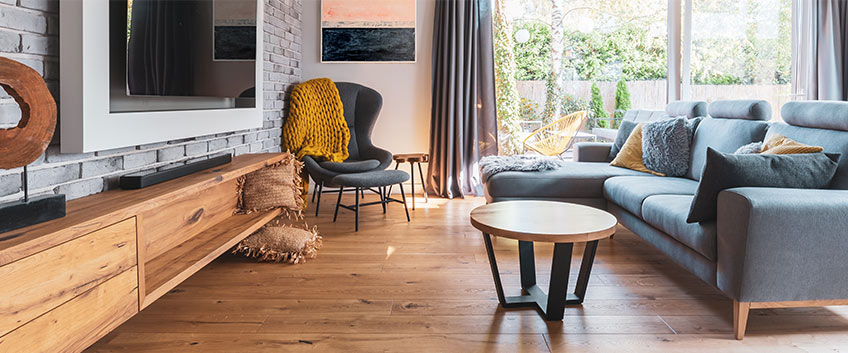 In case you own real wood flooring or you are planning to have one installed in your home or at work, you already know all the benefits of this stunning flooring option. Real wood floors, no matter if it comes to engineered wood, solid wood, or parquetry, are widely and well known for their stunning beauty, the durability they offer, the hard-wearing and long-lasting power they provide, the comfort, cosiness, and functionality they create, the naturally low-maintenance and hygienic nature they have, the opportunity they offer to look and feel like brand-new even after years of use with the right upkeep.
The list of benefits and advantages of hardwood floors goes on and on so there is no need to market them any further to you. However, the benefits and advantages of real wood flooring go far beyond just appearance and functionality. In fact, one of the main reason why people resonate with wood flooring as an interior design feature so much comes from the specific atmosphere and feeling every wooden floor can bring to your home and wherever it is installed. So let's talk wood flooring some more and let's explore why this type of flooring will never go out of style and it always is part of our homes.
Connect Back With Nature
Due to the hectic and dynamic lives, we all lead nowadays, it is safe to say that there is never enough time for us to go back to our roots and enjoy the inseparable connection and relationship with Mother Nature. However, one thing that can help us restore this precious connection is incorporating natural materials into the interior of our homes. This pretty much means we have the opportunity to bring a little piece of the vast nature close to us, in the comfort of our home. So whenever you feel too disconnected, an interior inspired by and incorporating natural materials and pieces can help you a lot.
Enjoy Cosiness Like Never Before
It is safe to say that wood if one of the materials and textures that is associated with cosiness and the feel of home the most. Especially when in warm, rich, and medium brown shades, real wood, no matter if it comes to a wooden floor, countertops, or furniture pieces, creates an atmosphere that whispers "home" and feels too comfortable and cosy to ever want to leave behind. Incorporating wooden material and textures in your interior will help you create the nest of love and tranquillity you need to distress after a long day of work and challenges.
Harmony and Balance
Restoring the connection with nature means you will be able to experience and feel a lot more harmony and balance in your life. So you can expect wooden material to create an atmosphere of harmony that helps you destress and feel more balanced and calmer. Indeed, the warm and cosy texture of the wood is automatically associated with calmness and safety on an unconscious level, which makes wood flooring and furniture the most efficient antidote to a stressful and hectic lifestyle outside the home.
A Touch of Luxury and Prestige
Wood flooring has always been associated with prestige and luxury. The first parquet ever was installed in the Mirror Hall at the Versailles many centuries back and at first, the beauty of parquet flooring was reserved only for the royal family of France, then only for a limited circle of wealthy families. Slowly, parquet flooring gained more and more popularity. Thanks to the industrial development and progress made, real wood flooring became accessible for people from all walks of life and budgets and the rapid demand for this type of flooring led to parquetry being installed in almost every house around the world. Despite the fact that wood flooring, nowadays, is offered in a really versatile prince range and there is something to cater to everyone's needs and budget, still flooring is still associated with elegance, classiness, luxury. It may not cost like a high-end option, but wood flooring certainly does look and feel like one.
Story of Light
Since wood flooring is far and beyond just an interior feature, it also can create a feeling and atmosphere beyond what is visible to the eyes. You can use your wooden floor to create optical illusions and completely change the way every room feel and appear to the eyes. Playing around with colours, finishes, textures, shapes and sizes of wooden floorboards can contribute to visually changing the layout and size of every room. As an example, you can easily create an optical illusion and make a room appear more spacious and airier than it originally is by choosing a light coloured wood flooring with close to no natural pattern, a shiny and glossy finish that will reflect light, long and wide floorboards fitted in a direction parallel to the rays of sun entering the room from the windows.