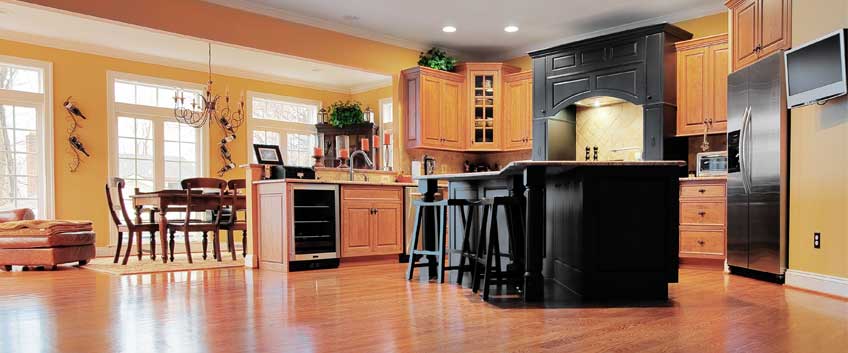 If you are planning on renovating your property, the floor is probably one of the first things that come to mind. Especially when it comes to luxury properties and homes, where every detail is precisely considered and the lusted final effect is extra special and unique, floors are an even more important thing to consider and plan. In fact, for so many decades wood floors are associated with luxury, class and elegance and this makes them practically one of the best choices and solution you have. In addition, wood floors are very versatile, because of the number of wood species used for achieving different styles, colours and appearances in general.
Wood is also easy to customise and you have the freedom on coming up with your own ideas and customise your floor the way it can make a bold statement, complement the interior design and meet your personal preferences and requirements. Something that we always have to mention is the stability, solidness and long-lasting power of that kind of floors that if maintained properly can last up to a hundred years and still look flawless. The above-mentioned features along with a big number of many other advantages and benefits make wooden floors the best investment for luxury properties that need a bit of refreshment.
The look
Of course, appearance is very important and most probably the first thing you are looking for on a wooden floor. Whether a wooden floor looks elegant and classy, or not, depends on its colour, wood variation and a number of knots, or otherwise said – its grade. Of course, when it comes to taste and perceiving, it is all about personal preferences and desires and there is nothing wrong with making and being an exception to any rule, because there are, actually, no rules! In addition, details are not always that important and we have to look at the whole picture because even the best quality wood is not entirely guaranteed to look stunning in a certain room and matched with a certain style. In general, the prime grade is considered to be the highest quality and "luxurious" one, although every wood flooring grade has its benefits and advantages.
Thickness
What makes a wood floor luxurious is not only its appearance but also the quality and thickness of the boards. In general, the thickness of the boards and the quality of the wooden materials are way more important than the general appearance. As far as for wood, the thicker and heavier the board, the higher the quality. Heavy and thick wooden boards are much more durable, hard-wearing, not that sensitive to humidity, moisture and high traffic and have great long-lasting power. In order to suit a luxury property, you have to invest in higher quality, for sure.
Grade
As we have already mentioned, types of wood species are grouped in different groups of grades, prime being the most luxurious out of them all (although any other great can match a luxury property very well, depending on the individual style and interior design). Prime grade is considered higher quality because of its uniform and smoother look and less natural patterns and knots and swirls, lower level of sap.