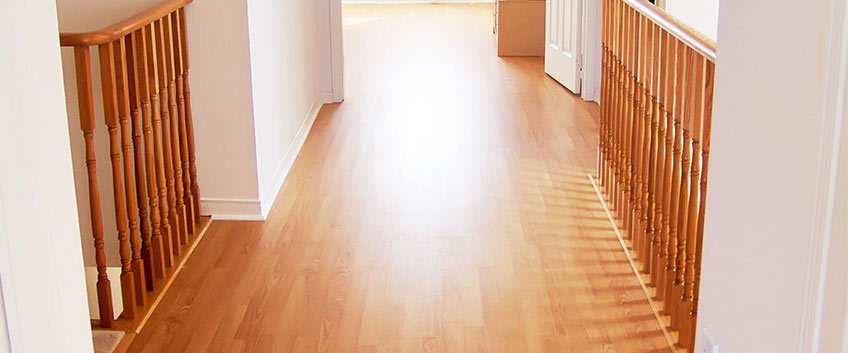 Wooden floors are deeply loved by many people. Considering the love for real wood flooring, many people would like to have them installed everywhere in the house. Real wood floors are truly unbeatable when it comes to creating an atmosphere of cosiness, warmth, a warm and friendly welcome. This automatically makes them a great choice for the hallway too, right? At the end of the day, the hallway is usually like the first place people see when entering your home and you want to leave a positive and lasting first impression. However, even though a beautiful wooden floor will definitely give your hallway this elegant and luxurious look and the cosy feel, is it really that suitable for such an area of the home?
Considering the intensiveness of the traffic and heavy footfall that can be expected in such a popular area of the house the hallway is, wood can easily get scratched or damaged in another way when installed in the hallway. However, there is one thing you can do in order to be able to enjoy a beautiful wooden floor for the hallway without worrying about it experiencing too much wear and tear and other imperfections and issues. Simply choose the right type of wood flooring. Making the right choice will guarantee the floor will last for a long time and you will be able to enjoy its look and functionality for longer than you may expect. In order to help you make the right choice, here are some aspects to consider when shopping for a wooden floor for the hallway.
Hallway Wood Flooring and Underfloor Heating
First of all, when it comes to choosing the right type of real wood flooring for the hallway, you will probably wonder whether to choose solid wood or an engineered wood floor. In case you have underfloor heating already installed in your hallway or you are planning the purchase and installation of such a system, make sure to choose an engineered wood floor. Engineered wood flooring is an innovative product with a very interesting structure of crisscrossed wooden layers that is designed so that the floorboards are less prone to issues caused by moisture and temperature fluctuations.
This pretty much means that engineered wood is the better choice for being installed on top of a heating system as the heat won't affect the condition of the floorboards and the floor will keep its structural integrity and stability. In addition, an engineered wood floor can be installed the floating way and this is better for an underfloor heating system since it ensures its higher efficiency. In addition, engineered wood floors can also be re-sanded and refinished, which means they are great for areas of more high traffic and heavy footfall such as a hallway. However, in case you are not having or considering an underfloor heating system, solid wood flooring is still a great option and it can be refinished significantly more often compared to an engineered wood floor.
Choose the Best Floor Finish for the Hallway
Choosing the right type of floor for your hallway is part of the job because choosing the right wood floor finish is equally important. You definitely want to choose a very durable floor finish with amazing lasting, hard-wearing and protective power that will preserve the original beauty, colour and texture of the floor even despite the intensity of the traffic and use a hallway floor can experience. Thankfully, when it comes to finishes, you are definitely spoilt of choice and you don't have to think about functionality and durability only but you can also choose a finish that achieves the final effect you are going for and that will best suit the design and interior of your home.
Every wood flooring finish option has its advantages and disadvantages when it comes to a wooden floor installed in the hallway. For example, a varnish would be a very durable and hard-wearing finish choice for the floor. In contrast, a penetrating oil sealant is definitely going to wear off quicker. However, when it comes to spot repairs, it is much easier to simply reapply a layer of oil finish, which is impossible for a varnished floor and you need to have the surface sanded and then refinished so you don't end up with a floor looking more like a patchwork quilt.
Additional Things to Consider
If you want to have a real wood floor installed in your hallway, you definitely want to invest in high-quality doormats too. First of all, it is very important to place one outside that will "catch" the majority of the dirt, dust, and soil that will, otherwise, enter the house with the shoes and can easily scratch the floor and create dirt build-ups that are not easy to remove or can permanently stain the floor. However, make sure to place another doormat inside, right at the front door, so it can "catch" the remaining dirt the outside doormat did not completely. Something as simple as placing doormats strategically will definitely help you enjoy a beautiful and clean floor for longer.