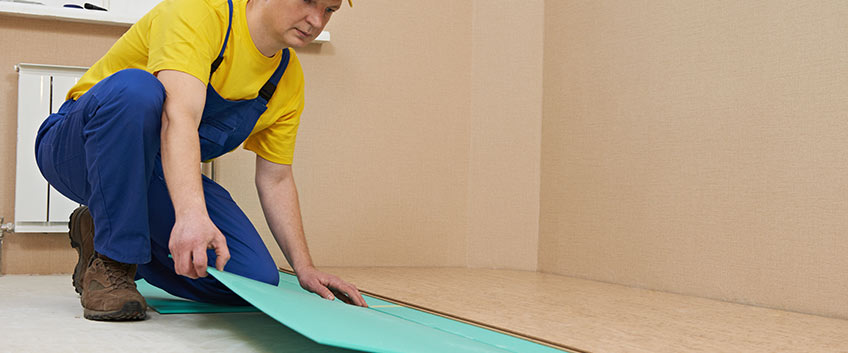 Are you considering the installation of a beautiful solid wood floor? There are many things to think of and be aware of when starting a solid wood floor fitting process, however, many people simply forget to consider the installation of an underlay. An underlay may not be the first thing that comes to your mind, however, it is an important aspect to consider. An increasing number of homeowners are investing in an underlay, therefore, today we would like to discuss the topic more in-depth and learn more about how a wood flooring underlay can be beneficial and if it is necessary to install it in all cases.
Sound-proofing Properties
One of the main benefits that a wood floor underlay can contribute to the wood floor installation project is that it has sound insulation properties. This can come in handy over time when the beautiful and durable solid wood floor starts making these squeaky noises when you walk on it. Unfortunately, no matter how durable, stable, and hard-wearing the floor is, over time and due to a number of factors it may start experiencing wear and tear and other issues, which can lead to squeakiness and nosiness. A sound-proofing underlay will definitely prevent that from happening and make the whole flooring construction more solid and stable.
Thermal Insulation Properties
There is no doubt that perhaps the biggest advantage of having an underlay installed under your solid wood floor and the main reason why people opt for it is the thermal insulation properties of the underlay. Over time, due to everyday use, high traffic increased moisture levels in the subfloor and the floorboards, regular temperature fluctuations, and other factors, gaps may appear between the floorboards. This significantly increases the insulation of the floor and allows drafts of cold air to enter the room through these gaps in wintertime and the heated air from inside to leave the room. While a gap filling service is a solution, there is nothing better and more effective than having an underlayment installed. An underlayment ensures the best insulation and keeps your heating bills lower, while your feet are toasty warm during the winter months.
More Comfort
An underlayment adds a cushioning effect to the wooden floor and this makes it more comfortable and convenient to stand and walk on. Since you will be walking on the floor a lot and in certain areas of the house, like the kitchen, you will stand on your feet for long periods of time, this cushioning effect that a high-quality underlayment can provide will be a great bonus worth considering.
Easy Installation
Installing underlayment is so easy. Just remember to the fitting of the underlay before the floorboards are laid down. Also, make sure the subfloor is well-prepared and its moisture content is within the recommended frames and recommendations. Underlayment can be laid directly onto the subfloor, no matter what type of subfloor it comes to.
Good for the Subfloor
Wood floors can be installed on top of different types of subfloor and there are different methods of installation. Nailing, glueing down, or even the floating method for engineered wood flooring fitting, you have a lot of flexibility and variety to choose from depending on the specifics of your project and case and what will contribute to a more hard-wearing, long-lasting, and stable flooring construction. All subfloors should be prepared before the installation of the floorboards. However, it sometimes happens so that a concrete floor should not meet all the requirements for the proper installation of the wooden floorboards. Some concrete subfloors cannot be dry enough or levelled for some reason and this is when an underlayment can help a lot. Definitely make sure to consider investing in an underlay if there are some issues with the subfloor.
Moisture Barrier
Excessive moisture from the concrete subfloor is usually a major factor that affects the condition of the wooden floorboards long-term and can lead to a bunch of problems and issues, including ballooning and cupping of the floorboards, warping, loose boards, chipped finish, and even breaking of the boards. A high-quality underlay can work as a moisture barrier and protect the wooden boards from a concrete subfloor with increased moisture content that cannot be decreased.