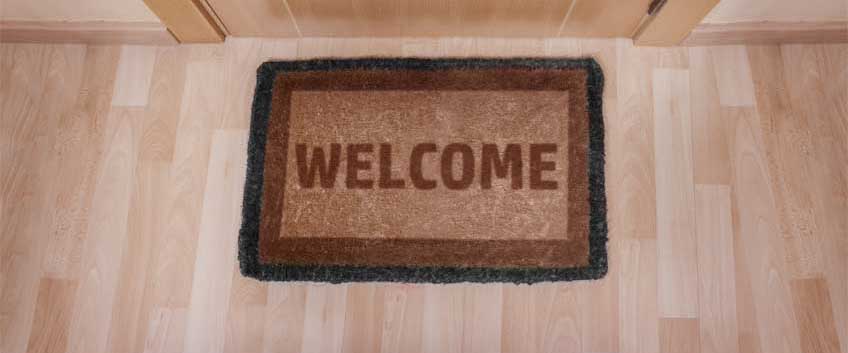 Wood floors, no matter if solid wood, engineered wood or parquetry, are a big investment and have to be kept in good condition for as long as possible and then they will pay off with a beautiful appearance, stability and long-lasting effect. There are a few simple hacks you can add to your everyday routine and they won't make it any harder or time-consuming, we promise. There are also a few little things you have to consider when owning a wooden floor. They can look not so important, but, believe us, they will make a lot of difference.
One of the common lapses many wood floor owners make is not buying doormats. Without the doormat placed at the door, you will be surprised by the amount of dust and dirt, which enters the house on the soles of the shoes. These dirt and dust particles will not only make the house dirty and make you clean more often, but they also work as an abrasive and scratch the surface of the floor, wearing off the finish faster and creating dirt build-ups. The doormat will prevent these damaging particles to enter the house and cause some imperfections and dents.
Outside doormats
Outside doormats are usually made of tough brush-type material, rubber or metal. This type of mat is designed to remove the main amount of dirt and debris from the soles of the shoes before you get inside the house.
Indoor doormats
Having an outside doormat, it is a smart choice to match it with a matt at the door, which is placed inside. Inside doormats are softer than the other ones. The reason of placing another matt from a softer material is that when entering the house, people would be able to wipe off the excess dirt and dust, which the harder bristles of the outside mats cannot collect. There is a great variety of inside doormats on the market, so you are able to match it with your style and interior design.
When shopping for a doormat:
When shopping for an indoor doormat chose one, which won't let water on the surface of your floor and will collect it. Rubber-based ones are designed for the purpose.
Buy a larger-sized mat, so it will be comfortable for sweeping, before stepping onto the wooden flooring.
With outdoor and indoor doormats you make a good investment in order to keep the condition of your floor perfect for longer. Even if you don't expect it, the dirt and dust particles, which enter your property on the solves of the shoes or on the feet of the pets are amongst the main reasons for scratches and ruined the appearance of the floor and can sometimes lead to major issues. After all, even the highest quality doormats are cheaper than sanding and refinishing services. Alternatively, try to develop that habit of not wearing shoes inside the house, if possible.