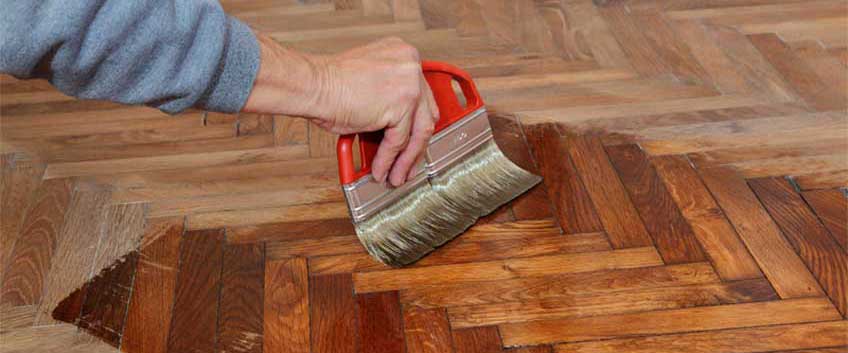 Oiled finishes are great for enhancing the natural beauty of wooden floors. Their effect allows the natural wood texture and pattern to stand out and shine bright and this is the reason oils for wood floors to be so popular for the last few years. Many people are embracing the authentic wooden look and we understand this trend very well because wood is beautiful, elegant and classy on its own and by beautiful we mean attractive and outstanding enough to be the focal point of every room, no matter the interior design, decorations, furniture pieces and colours. In fact, wood's texture is so amazing that you can work mainly with it and keep all thing around with clean lines and tranquil, or you can be bold, play hard and mix and match all the textures around the house for a unique look, it is totally up to you.
No matter your desires and interior design choices, oiled-finished wooden floors are always an amazing option. In fact, oiled finishes are not only about beauty and visual enhancement, they also work great in terms of protection and adding durability and stability. Because of the specific texture of the oils, these finishes penetrate through the whole structure of the floor, adding extra protection and strength from inside as well as on top of the floor, working as a protective barrier. You know, besides being beautiful, bare wood is also easy to get damaged and scratched with all the everyday use and high traffic and a protective top layer is always recommended. With oiled finishes, you tick all the boxes, because you have a natural look enhanced the best way and also a solid and durable base, resistant to moisture and humidity.
However, if we have to mention one weak future of oiled finishes this would be the fact they are not as hard-wearing as wax and lacquer, for example. Don't panic if oiled finishes have already won your heart, because this is not a reason to worry too much. Well, oils are not that long-lasting, but they are really easy to re-apply even by yourself!
How often do oil-finished wood floors need refinishing? Well, it is totally up to the individual lifestyle of the owners. It looks like this pretty much – the more high traffic and the more everyday use, the more frequently your floor would need re-oiling. If the floor is installed in busy areas and especially for commercial premises, re-oiling is recommended at least two times every year. When it comes to residential houses, naturally one re-oiling service every year should do the magic and keep your floor good-looking and in tip-top shape.
Is re-oiling time-consuming and expensive? No, not at all. Unlike floor recoating and polishing, which are the processes of refinishing wax and lacquered floors, re-oiling doesn't require prior sanding. Of course, if you have extra time and extra money, sanding is always good for removing scratches and giving a smooth and even look. However a new coat of oil could be applied right away and you can hire the professionals, or do it yourself, simply follow the manufacturer's instructions.