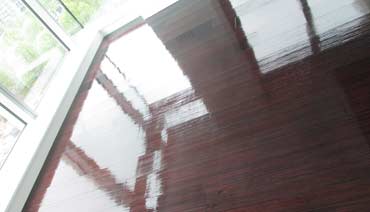 The number of offered flooring services strictly depends on the number of flooring possibilities available. At least it should be that way. Because every type of wood flooring has its own structure, character and specifications and, of course, every type of flooring needs its individual floor installation, sanding, repair and maintenance service for best results. At Flooring Services London we have a wide selection of flooring services for Hillingdon and surrounding areas, because we believe in the meaning of the personal approach to any issue or task. You can also choose from a great variety of staining and sealing products and cleaners. Our experts will make sure to suggest you the most suitable for the needs and the nature of your flooring.
Excellent practice at floor fitting in Hillingdon
We at Flooring Services London have already decades of experience in floor installation and we always look forward for learning new techniques and methods, suitable to the dynamic industrial branch and improving our company. On the other hand, we count on classic and proven floor installing methods, because sometimes this is what works the best. So don't hesitate to call our customer service and ask for laminate, parquet, solid, engineered wood, floorboards and stairs flooring installation, we provide all of them for domestic and commercial projects. You also may need more information on soundproofing and floor insulation underlayment fitting.
Designs and floor sanding in Hillingdon
Floor sanding, sealing and staining are the artiest and most impressive parts of our work. Counting on great selection of modern and dust-free machines and natural, powerful and safe for your family or clients products, we can create patterns, designs, styles and colours, which exist in your dream. Our experts are great at suggesting a balanced option between your inspirational ideas and what is best for your flooring. Otherwise, sanding and sealing can create not that big changes and only highlight the natural beauty of your real or manufactured wood floor. If you desire a more rustic and organic effect, we provide finer and sometimes made-by-hand sanding for keeping the initial wood texture, but removing the traces of time and use such as scratches and non-structural gaps. This will add extra years to your floor's life cycle.
Trusty wood floor repair in Hillingdon
Our team has seen almost everything, so even when you lose hope on your floor, we keep believing that major change is completely possible. Yes, it is and it even won't break the bank if you bet on Flooring Services London for Hillingdon projects. Gap filling, scratch repair, fixing loose planks and nails, removing damaged floor parts, all that is possible and even beyond!
Advanced floor maintenance methods in Hillingdon
We provide maintenance services and expert information with equal quality. Yes, we share our branch's best kept cleaning and maintenance secrets with our commercial and residential clients, creating a super easy, timely and effective cleaning routine and even providing it. Add some new meaning to the words shiny and clean with our floor polishing, waxing, re-oiling and recoating services!
Served Areas
Harefield
Harlington
Hayes
Hillingdon
Northwood
Ruislip
Stockley Park
Uxbridge
West Drayton
Served Postcodes
BR2
HA4
HA6
UB3
UB4
UB7
UB8
UB9
UB10
UB11
Testimonials
Dear Dimitri, Thank you for completing the work on time and to a great standard. I am very pleased with your team who worked swiftly and cleanly. I am very pleased with the finished product which I hope we will enjoy for many years to come.
A job done very well. Thank you.
Very happy. Very good overall.