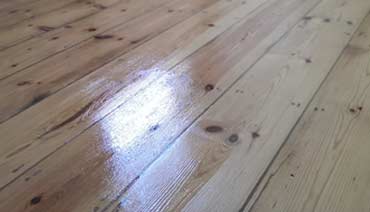 We at Flooring Services London can make a long list of how we think wood flooring should look and work for you. Years of experience on the London market and in Greenwich also, give us confidence and a broad view of how the flooring things should happen. Part of our job always has to be solving flooring issues, made by the previous poorly done job. We try to prevent this vicious circle of constantly hiring new flooring teams to correct the mistakes of previous workers by providing detailed and expert information when flooring plans are still in the process of consideration. Our client's floors are not the place we yet train how to deal with flooring and before every flooring project starts, our team comes to your house with licensed, high standard and already practised to perfection training. This is what makes the difference between ordinary branch workers and the real professionals at floor installation, sanding, restoration and maintenance.
Right system of floor installation in Greenwich
Wood floor installation is not simply the process of laying planks every flooring service out there can offer you. Wood floor installation is a more precise job, which needs certain preparation. From leaving the wood material to acclimatize with the new environment of your room to levelling, cleaning and leaving the subfloor to dry completely, this is what we do for best results at the upcoming floor installation. Then our experts choose the right method of floor fitting, depending on the subfloor and the floor material. No matter whether glued, nailed or fitted floating, we try our best when it comes to hardwood and engineered floors, parquetry, laminate, floorboard laying and also acoustic and insulation underlayment installation.
Great floor sanding team in Greenwich
Sanding means a different thing and set of operating stages for different types of wood flooring. A hardwood floor can be sanded more often than engineered flooring, parquetry, on the other hand, is even harder. On top of that, your flooring should be diagnosed by professionals, because we need to know about previous sanding job and the floor's condition. Bad floor condition sometimes means repair needed beforehand, good floor condition may need only screening and recoating and that will save you money. After floor sanding, your floor is ready to be stained or sealed, this is your choice. We provide all these stages of floor refinishing for domestic and commercial projects and stairs also.
Wood floor repair crew in Greenwich
Wood floor repair may be needed for newly installed flooring and worn floors also. The most common floor issues we meet are deep scratches and gaps, loose planks, thinner wood material, and loose nails. We provide an excellent floor repair service for hardwood, parquet and floorboards and also for laminate, engineered wood and staircases, both commercial and domestic.
Wood floor maintenance crew in Greenwich
Our floor cleaning service is great commercial buildings and schools, where your cleaning crew can't handle the stubborn dirt and stains. We use heavy-duty cleaning machines and products to provide extra clean and shiny floors. In addition, for your annual home flooring maintenance, we offer great and affordable recoating, waxing, polishing and re-oiling.
Served Areas
Abbey Wood
Blackheath
Charlton
Eltham
Greenwich
Kidbrooke
Mottingham
New Eltham
Plumstead
Shooter's Hill
Woolwich
Served Postcodes
DA16
E16
SE2
SE3
SE7
SE9
SE10
SE12
SE18
SE28
Testimonials
Dear Dimitri, Thank you for completing the work on time and to a great standard. I am very pleased with your team who worked swiftly and cleanly. I am very pleased with the finished product which I hope we will enjoy for many years to come.
A job done very well. Thank you.
Very happy. Very good overall.