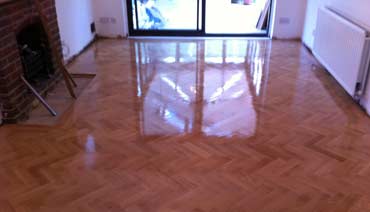 Welcome to Flooring Services London helping desk website, we are wood flooring specialist in Waltham Forest and surrounding areas, supplying a long list of floor services, such as installation, restoration, maintenance and care and sanding and refinishing. We offer our services for both domestic and commercial projects and they are adaptive to different kinds of flooring, including parquetry and laminate, natural wood, timber and staircases. Browse our site for further information or contact our customer service. In our blog section, you also can find tips and expert advice on a variety of wood flooring topics. Let's have a look at the main services we provide in Waltham Forest, but keep in mind we have a special offer for free site view when we can discuss your individual desires and expectations.
All types of floor fitting in Waltham Forest
Flooring Services London team supplies and installs every type of new wooden floor, including real wood timber, engineered wood, laminate, parquetry and floorboards. After the prior subfloor preparation process and soundproofing and floor insulation underlayment if you decide on, we will find the best and most suitable installation method for your room or office. Knowing the natural wood character and the manufactured flooring lumber features, we will choose what will adapt best to the subfloor, the flooring material itself and, of course, to your desires. This is the way we create our signature and recognizable projects, which not only look perfect but also guarantee decades and durability for the floor construction.
Floor sanding and refinishing in Waltham Forest
We at Flooring Services London know the chronology of the floor refinishing service stages to perfection. Here is the step-by-step short guide. We provide prior restoration for flooring in really bad condition, including fixing popping nail heads, loose planks, gap filling and sometimes removing super scratched parts of the flooring. Then, our sanding experts will use a variety of floor sanding machines by the leaders on the market in order to create super smooth and even surfaces. Once the floor surface is sanded, we provide high-quality sealing products to produce a super long-lasting finish. You only have to choose the finish style, which suits your design – glossy, semi-glossy or matt. Floor staining is a great option to change completely your design without breaking the bank.
Floor and staircase repair in Waltham Forest
Before the sanding, sealing and maintenance floor services you have to consider some floor repair if needed. Deep scratches, gaps, thinner and worn wood, discolouration, all these are signs of major floor issues. When the wood itself is in bad condition, sanding and sealing are not enough to change the outlook totally. Plus, each subsequent refinishing service may cause further damage. Contact our expert team for more information on scratch repair and parquetry, laminate and natural wood restoration.
Floor maintenance and support in Waltham Forest
Flooring Services London can support you with information on how to properly clean and take care of your flooring anytime, just contact our customer service on 020 70360625 or through the contact form on our website. Finally, if you can't handle stubborn dirt or you desire floor refreshment, book a floor or staircase polishing, waxing, buffing, stripping or recoating service now and get the advantage of our special offers and benefits.
Served Areas
Chingford
Highams Park
Leyton
Leytonstone
South Chingford
Upper Walthamstow
Walthamstow
Served Postcodes
Testimonials
Dear Dimitri, Thank you for completing the work on time and to a great standard. I am very pleased with your team who worked swiftly and cleanly. I am very pleased with the finished product which I hope we will enjoy for many years to come.
A job done very well. Thank you.
Very happy. Very good overall.