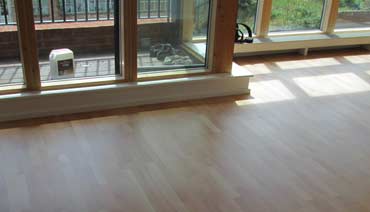 If only we at Flooring Services London receive a penny every time we get praise from pleased clients, we would be billionaires! Wait a minute, we get more than this! After every flooring project in Hammersmith and Fulham, wood floor installation, sanding, repair or cleaning, we receive your positive feedback, because every project we start, we finish successfully. We are confident in our success because we pay attention to every detail and always try to meet our client's desires and expectations. Well, we are still not billionaires, because we offer flooring services at super affordable prices, but that doesn't matter, because being a valued and respected company for such a long time is the only important thing for the professionals we are. Still, we earn enough to buy the latest fashion equipment and high-quality products for our clients!
Experience reliable floor fitting in Hammersmith and Fulham
Flooring Services London is your floor fitting solution in Hammersmith and Fulham, whether it comes to laminate, parquetry, solid or engineered wood, floorboards or even staircase flooring. We provide excellent performance and high-quality products for all our projects, being for residential homes and commercial buildings. Preparation is our key to perfect-looking flooring, so before installing we check the subfloor's moisture level, clean it and make it even. We also provide natural and high-quality acoustic and insulation underlayment.
The key to the perfect sanding service in Hammersmith and Fulham
We at Flooring Services London actually own not just one key, but a whole key chain! The first key is our floor repair service, which is really important to create super solid flooring for the upcoming treatment. The next one, which opens the door to attractive flooring is our quality and modern dust-free equipment. The key, which welcomes you in your perfectly renovated room is the individual approach to hardwood and parquet we provide. The last key we offer you is our amazing staining, sealing and gap filling services.
Committed to best floor repairs in Hammersmith and Fulham
Yes, wood floor repair is our task, because solving flooring issues is not your usual DIY project and you usually need professional help. Scratch and gap filling, removing damaged planks and finding the perfect match, hammering down popping nail heads, adding wood floor adhesive and more – these are part of our portfolio.
Floor cleaning, maintenance and beyond in Hammersmith and Fulham
That's right, we don't only provide professional commercial and domestic cleaning, even not only amazing recoating, polishing and waxing, but we also offer you completely free a selection of helpful expert advice and tricks, which will reduce your everyday maintenance routine in time and price. Check out our blog section for a variety of topics!
Our experts are always available for you to ask the flooring questions you are interested in. Find them on 020 70360625 or through the site form.
Served Areas
Barons Court
Brook Green
Fulham
Hammersmith
Parsons Green
Ravenscourt Park
Shepherds Bush
West Kensington
White City
Served Postcodes
Testimonials
Dear Dimitri, Thank you for completing the work on time and to a great standard. I am very pleased with your team who worked swiftly and cleanly. I am very pleased with the finished product which I hope we will enjoy for many years to come.
A job done very well. Thank you.
Very happy. Very good overall.