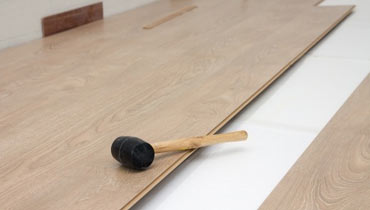 Engineered wood floors offer homeowners the best of both worlds - the elegant look of real hardwood combined with the durability and affordability of laminates. The cross-layered construction makes engineered floors highly stable and able to resist moisture, allowing installation in basements and on uneven subfloors. The factory finish also makes engineered wood easy to clean and maintain.
While more budget-friendly than solid wood, engineered floors retain the depth and warmth of natural wood grains to elevate any room. With proper installation, these floors are built to last decades with their beauty preserved. Engineered wood gives you the sophisticated style of hardwood without the heavier price tag or maintenance.
Our Engineered Floor Fitting Process
Our expert installers follow a meticulous process to ensure your new engineered floors are fitted to perfection. We begin with a free estimate and consultation to assess your space and needs. Next, we prepare the subfloor by leveling any uneven areas, sealing concrete, and installing moisture barrier underlayment. The engineered planks are precisely fitted using the tongue-and-groove system for tight seamless connections.
We use specialised techniques including stapling, nailing, gluing, or floating installation to adhere the boards based on your subfloor conditions. Every step is completed with care by our seasoned technicians to create flawlessly fitted floors ready for finishing. Our process delivers engineered floors that are securely bonded and built to last.
Why Choose Us
When it comes to engineered floors, proper installation is key to ensuring their longevity and flawless look. Our experienced installers provide professional fitting services guaranteed to get your floors looking their best. We properly prep subfloors to prevent loose planks or warping later on. Our team inspects all flooring materials before starting for quality and consistency. With expertise in all types of engineered wood, we handle any necessary repairs seamlessly. Our quality craftsmanship comes at affordable pricing suitable for any project budget.
Get the most beauty and longevity out of your engineered wood floors with proper installation by our experts. With decades of combined experience, we are London's top choice for flawless engineered floor fitting and finishing. Our meticulous process and guaranteed quality bring out the best in your floors. Don't settle for loose planks, gaps, or other mistakes - contact us today to schedule your free estimate!
We will inspect your space, discuss options for subfloor prep, moisture barriers, and precision fitting techniques. Let us handle your engineered floor installation so you can enjoy worry-free floors for years. Whether you choose floating, nailing, gluing or stapling, our skilled craftsmen will help you make the right decisions for your home and budget. Contact us now to start planning your perfect engineered floors. Call today at 020 70360625 to turn your flooring dreams into a beautiful reality!
Served Areas
City of London, Westminster
Barking and Dagenham, Havering, Newham, Tower Hamlets
Hackney, Redbridge, Waltham Forest
Barnet, Enfield, Haringey, Islington
Bexley, Bromley, Greenwich, Lewisham, Southwark
Kingston upon Thames, Merton, Richmond upon Thames, Wandsworth
Ealing, Hammersmith and Fulham, Hillingdon, Hounslow, Kensington and Chelsea
Testimonials
Very happy with quality of the flooring and the standard of the fitting and service in general.