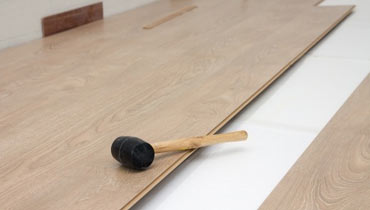 We at Flooring Services London can see why you choose engineered flooring for your London house. That type of flooring has many positive features to offer – it has the beauty of real wood timber, but on more affordable prices, so it won't break the bank. Engineered flooring is easier to maintain than hardwood and it's manufactured to last you decades, made with this special method of crisscrossed glued together layers of lumber and plywood for best durability and resistance to impact of conditions, that may damage solid wood flooring. Last but not least, engineered flooring is perfect for lower level rooms, since it is damp resistant and can be installed over uneven or underfloor heating. If not installed properly, engineered floor lose its benefits, so contact us on info@flooringservices.london for the best engineered floor fitting in London area.
We are happy to offer free estimate in London for in depth meeting individual need of your house and flooring. In addition, we also can move furniture and prepare subfloor if needed. Here are main stages of the installation:
Engineered floor offers quicker and easier way to get a new floor and comes with a durable factory-applied finish, which will guarantee long lasting power and simple maintenance. However, the laying of engineered floor should be done right or you will end up with warping, loose planks, quicker worn. If you are on a low budged, don't worry, because after our engineered fitting service, the upcoming maintenance and further information we provide, even cheaper material will look like million pounds!
Material should be inspected before we start, but that is not an easy task for untrained eyes. Count on our long experience in London and contact us for prepping engineered wood. Care should be taken before the floor laying begins and we will repair and remove particular characteristics you do not desire, if needed.
However, if you start engineered wood fitting as a DIY project and problems appear, our experts will help you immediately with use of stain or fillers if needed.
When subfloor is environmentally and structurally acceptable, the fitting procedure can start.
For stapling, subfloor should be plywood since it prevent floor movement and squeaks. Moisture barrier underlay may be applied before if needed.
In addition, as a wooden product, colors and shades may vary from piece to piece, but don't worry, when variations are consistently distributed across the room it will give unique appearance to your flooring.
The floor planks are tongue-and-groove style, so they can be stapled and fixed with hidden nails or glued. We offer you high quality adhesive, the best on London market, for best results.
Floating installation is another option. It consist of gluing or clicking together planks (if the flooring has click lock system) to each other but not to the subfloor. This method is great for uneven or subfloor with high moisture level.
Contact our customer support on 020 70360625 or info@flooringservices.london to book our flooring services in London.
Served Areas
City of London, Westminster
Barking and Dagenham, Havering, Newham, Tower Hamlets
Hackney, Redbridge, Waltham Forest
Barnet, Enfield, Haringey, Islington
Bexley, Bromley, Greenwich, Lewisham, Southwark
Kingston upon Thames, Merton, Richmond upon Thames, Wandsworth
Ealing, Hammersmith and Fulham, Hillingdon, Hounslow, Kensington and Chelsea
Testimonials
Very happy with quality of the flooring and the standard of the fitting and service in general.