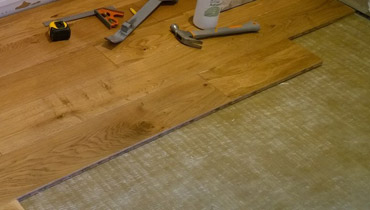 Floorboards offer timeless beauty and authenticity using real solid wood in London. The classic thick planks deliver a genuine wood floor look and feel that is difficult to replicate with engineered boards or laminates. Floorboards come in a variety of wood species like oak, walnut, ash, and exotic woods, and colours, from light to dark tones, adding beautiful character to any room. The thick planks provide a substantial visual impact and presence that complements both modern and traditional spaces. As real wood, floorboards can be repeatedly sanded and refinished overtime to restore their appearance and remove scratches or stains. This makes them a sound investment in London since they can outlast carpets or tiles. The warmth and natural complexity of real wood grain patterns shine through floorboards in London in a way that thin engineered boards cannot match. For those seeking the charm, longevity, and authenticity of real hardwood, floorboards are an excellent choice.
Our Floorboard Installation Process in London
We take a meticulous approach to ensure your new floorboards are installed to perfection. First, we thoroughly prepare the subfloor by leveling any uneven spots, sealing concrete, eliminating dust, and testing for moisture. Proper subfloor prep prevents creaking and loose boards down the road. The floorboards acclimatise onsite to reach the ideal moisture content before installation begins. Next, the floorboards are precisely laid by gluing or nailing them based on factors like your subfloor. Adhesives create an incredibly strong bond while nailing allows future board replacements if needed.
Our experts cut each thick plank with precision around doorways, hearths, and odd angles for completely seamless lines. Small expansion gaps are calculated and left between the boards and walls to accommodate natural wood movement from humidity in London. Once installed, we professionally sand the floors with finesse for a smooth, even surface ready for finishing. Custom edging and transitions are added between flooring types for a polished look. The final step is applying your choice of finish coating to protect and enhance the natural wood grain's beauty in London. Every step is completed with care by our seasoned technicians to actualise stunning, durable floorboard floors.
Why Choose Us for Floorboard Installation in London
When it comes to achieving flawless floorboard installation in London, choosing the right installer is key. Our experienced technicians have the expertise to actualize stunning solid wood floors that last. We have extensive experience with all floorboard types from thin engineered planks to thick solid oak boards. Proper subfloor preparation helps prevent loose boards, squeaks, and warping years later - and we prep subfloors with care. We use only the best premium adhesives and flooring nails for durable, stable fixing that stands the test of time. Our pricing is cost-effective for any budget without sacrificing quality craftsmanship. We know repairs and replacements are inevitable down the road and handle them seamlessly. Our customers consistently rave about the smooth, beautiful floorboard installations we deliver. When you want the warmth and longevity of real wood floors installed to perfection, choose us in London. Contact us at 020 70360625 today to schedule your free estimate!
Served Areas
City of London, Westminster
Barking and Dagenham, Havering, Newham, Tower Hamlets
Hackney, Redbridge, Waltham Forest
Barnet, Enfield, Haringey, Islington
Bexley, Bromley, Greenwich, Lewisham, Southwark
Kingston upon Thames, Merton, Richmond upon Thames, Wandsworth
Ealing, Hammersmith and Fulham, Hillingdon, Hounslow, Kensington and Chelsea