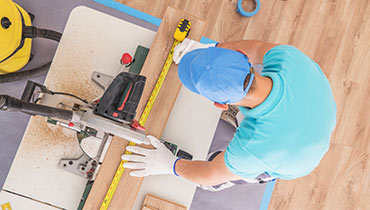 Laminate flooring delivers the beauty of real wood at a fraction of the cost. Advanced printing technology recreates the look of natural grains and textures at affordable prices. Laminate is highly durable, resisting scratches, stains, and moisture thanks to a protective top layer. Easy maintenance with occasional sweeping or mopping keeps laminate floors looking like new for longer. Unlike real wood, laminate can be installed anywhere in the home including basements and bathrooms due to its water resistance. With a vast variety of plank styles and colors to choose from, there's a laminate look for every décor. Laminate offers homeowners almost all the aesthetic benefits of hardwood but at budget-friendly prices.
Our Laminate Floor Installation Process
We take a meticulous approach to ensure your new laminate floors are flawlessly installed from start to finish. First, we consult with you in-depth to fully understand your needs, style preferences, and project goals. Next, we thoroughly prepare the subfloor by leveling any uneven areas, sealing concrete, and ensuring the base is smooth. High-performance underlayment is professionally installed over the subfloor to reduce noise and add comfort underfoot. The laminate planks click together easily using the secure tongue-and-groove system. Each connection is carefully checked for tight seamless fitting. Expansion gaps are calculated and left around the perimeter to accommodate natural floor movement. Sleek transitions pieces are added at doorways, edges, and between flooring surfaces for a polished finish. Skilled trim work eliminates any visible seams. Every step of the installation process is completed with care by our seasoned technicians to create durable, flawless laminate floors built to last for decades.
Why Choose Us
When it comes to laminate floors, proper installation is key to maximising their beauty and longevity. Our experienced installers provide professional fitting services guaranteed to get your new floors looking their best. We are experts in all types of laminate from traditional planks to modern styles, and handle any necessary subfloor repairs with ease. Our quality craftsmanship comes at affordable pricing suitable for any budget. We work efficiently to minimise disruption to your home or business. Contact us today to learn more about our laminate floor installation services for flawlessly fitted floors ready to endure years of use. Our customers consistently rave about the high-quality, seamless results we deliver.
Get the most out of your laminate flooring investment with professional installation by our experts. We deliver flawless fitting and finishing services to accentuate the beauty of your new floors. With decades of combined experience, we are the top choice for laminate floor installation in London. Don't settle for loose planks, gaps, or other mistakes – contact us today to schedule your free estimate! Let us inspect your space and make recommendations to achieve the laminate floors of your dreams. We can't wait to show you samples and discuss options to find the perfect affordable flooring for your home.
To get started planning your beautiful new laminate floors, call us today at 020 70360625. Our knowledgeable staff is ready to answer all your questions and provide advice tailored specifically to your project. Call now to turn your vision into reality!
Served Areas
City of London, Westminster
Barking and Dagenham, Havering, Newham, Tower Hamlets
Hackney, Redbridge, Waltham Forest
Barnet, Enfield, Haringey, Islington
Bexley, Bromley, Greenwich, Lewisham, Southwark
Kingston upon Thames, Merton, Richmond upon Thames, Wandsworth
Ealing, Hammersmith and Fulham, Hillingdon, Hounslow, Kensington and Chelsea
Testimonials
Excellent job. Well pleased! Very good worker. Thank you.t.