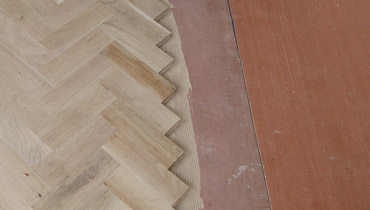 Since parquetry is one of the oldest wood flooring, that can be found in London houses and have its resistant and established traditions, we have mastered fitting of parquet blocks to perfection. Parquet installation reminds of any kind of hardwood floor fitting out there is so many directions, including subfloor preparations. What makes parquet fitting different is the layout of parquet wooden blocks. A parquetry has a rich look because it is composed of thousands of little pieces. Tiles or blocks are made of solid wood and can be installed using adhesive or nailed, parquetry consist of repeating patterns and exciting compositions such as herringbone or more angular – squares, triangles, lozenges. Having in mind the mosaic and complex construction of parquetry, parquet fitting should be done by professionals and we are happy to help you for London projects, both domestic and commercial.
Fitting of the parquet blocks, just like any other wood floor installation need certain preparation. Once again, for better results you need dry, levelled and clean subfloor to begin with, no matter if you lay parquet on concrete or existing wood flooring. We offer long list of preparation and floor repair service in London and surrounding area, so contact one of our team's member on 020 70360625 or info@flooringservices.london. Fitting of the parquet blocks requires precision plan before installation. On one hand, we have small blocks to begin with, on another hand – beautiful but complex layouts. In that sense, parquet laying look a lot like a puzzle – find the right place for the right wooden block.
Different than engineered wood or laminate and floating installation, parquet in glued of nailed directly on subfloor. If needed, we provide different kinds high quality underlays, especially for subfloor, which can't be leveled for some reason. Parquet blocks often have tongue and groove locking system edges and their installation consist of pressing each block into the adhesive, then sliding them into its neighbor. Nailing is another option and thanks to the tongue and groove system, nails are applied hidden.
Parquet installation starts from the center of the room in outer direction. As any other kind of wood flooring, small gap should be leaves around the walls of the room to prevent cracking and loose pieces if the wood shrinks or enlarges due different conditions. Rooms, that are not square or have to many angles requires even more attention to lay the pattern around the corners without losing the line of art.
Art is the key word in that case and looking at parquet floor laying as an art should prove you, that it definitely should be done by experts. Depending on the desired layout and floor itself, parquetry installation can be costly procedure and you want it installed perfectly to avoid additional costs. Even when employing the services of professionals you must insist of seeing previous projects. Flooring Services London provides rich portfolio with many successful projects around London.
Served Areas
City of London, Westminster
Barking and Dagenham, Havering, Newham, Tower Hamlets
Hackney, Redbridge, Waltham Forest
Barnet, Enfield, Haringey, Islington
Bexley, Bromley, Greenwich, Lewisham, Southwark
Kingston upon Thames, Merton, Richmond upon Thames, Wandsworth
Ealing, Hammersmith and Fulham, Hillingdon, Hounslow, Kensington and Chelsea
Testimonials
Dear Dimitri, Thank you for completing the work on time and to a great standard. I am very pleased with your team who worked swiftly and cleanly. I am very pleased with the finished product which I hope we will enjoy for many years to come.
I am very pleased with the floor and how efficient every body I dealt with was.