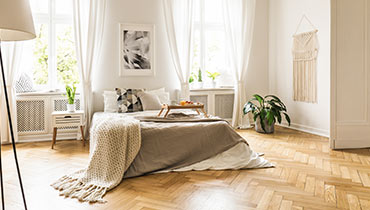 As one of the oldest wood flooring types, parquet floors require specialised installation. The complex patterns and small blocks turn the floor laying into a meticulous puzzle. Creating geometric designs using solid wood pieces takes artistic precision and care. One small mistake can disrupt the entire aesthetic. That's why parquet installation is best left to seasoned professionals. Our parquet specialists have mastered precise fitting techniques perfected over years of experience. We take a meticulous, creative approach to handling these one-of-a-kind floors. Our extensive portfolio proves we can flawlessly fit any custom layout. Let us put our expertise to work creating your ideal parquet floor. Contact us today at 020 70360625 for a free quote and see past projects that demonstrate our artistic installation skills.
Parquet Floor Installation Process
Proper subfloor preparation is crucial for a successful parquet installation. Our technicians check for moisture and repair any cracks or uneven areas. The subfloor must be completely dry, debris-free, and level for the best glue adhesion. We use moisture meters and floor leveling compounds to create the ideal base.
The intricate parquet patterns require diligent planning and layout prior to installation. We map out the floor plan and design based on the room size and shape. This allows us to visualise how the pattern will fit, identify any issues, and ensure no costly mistakes. Our expertise is vital for aligning complex layouts like herringbone.
Parquet blocks are secured directly to the subfloor, not floated over it. We use advanced adhesives applied across the floor to firmly glue down the blocks. Nailing through the tongue and groove is another option for adding stability. The direct bonding results in solid installation with no movement.
Installing parquet starts from the centre lines of the room, expanding outward in rows. This helps keep the pattern aligned and symmetrical. Working from the middle allows us to make adjustments to the perimeter if needed. The result is a balanced floor with the pattern centred.
A small gap of 5-15mm is left between the parquet flooring and walls. This allows room for the natural expansion and contraction of the wood. Without any spacing, the floor risks buckling or planks becoming unglued. Our experts precisely calculate the gap needed for longevity.
Extra care is taken when installing the parquet around irregular corners or room angles. This prevents disrupting the pattern alignment or having mismatched seams. We meticulously plan borders and transitions to maintain the floor design. You'll never notice where layout adjustments were made.
Rich portfolio of successful London projects
We have an extensive portfolio showcasing our flawless parquet installations across high-end London homes and commercial spaces. Our rich gallery of past work proves we can expertly handle any custom pattern. We are proud to highlight our many satisfied customers.
Perfectly fit intricate patterns like herringbone
No parquet pattern is too intricate for our seasoned installers. We specialize in fitting detailed designs like herringbone and chevron with seamless precision. Our portfolio includes some of the most complex layouts imaginable, fitted to perfection.
Expertise with all types of parquet flooring
With decades of combined experience, our installers are familiar with all types of parquet floors. We've fitted everything from traditional oak parquet to modern engineered styles. If it's made of parquet, we can install it beautifully and functionally.
Seamlessly replace damaged sections
We are experts in identifying damaged parquet planks and replacing them for invisible repairs. Custom cutting replacement blocks, our technicians flawlessly integrate patches to match the existing floor. You won't be able to tell replacements were made.
Free estimates for any size project
We provide free estimates for parquet installation projects of any size across London. A personal technician will survey your space, discuss layouts, and provide an accurate quote with no obligation. Parquet requires precision craftsmanship. Don't leave your new floor to chance! Our excellent fitting skills create stunning parquet patterns.
Contact us at 020 70360625 or info@flooringservices.london to schedule a free estimate.
Served Areas
City of London, Westminster
Barking and Dagenham, Havering, Newham, Tower Hamlets
Hackney, Redbridge, Waltham Forest
Barnet, Enfield, Haringey, Islington
Bexley, Bromley, Greenwich, Lewisham, Southwark
Kingston upon Thames, Merton, Richmond upon Thames, Wandsworth
Ealing, Hammersmith and Fulham, Hillingdon, Hounslow, Kensington and Chelsea
Testimonials
Dear Dimitri, Thank you for completing the work on time and to a great standard. I am very pleased with your team who worked swiftly and cleanly. I am very pleased with the finished product which I hope we will enjoy for many years to come.
I am very pleased with the floor and how efficient every body I dealt with was.