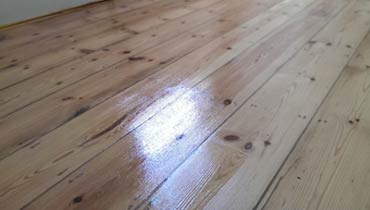 We at Flooring Services Londonare leaders on London market, especially when it comes to solid wood floor fitting… we are also bored with unimaginative advertising texts! Every wood flooring company in London will praise with their long list of services and portfolio offering this service, including us. Well, we are more than that! Our biggest goal is mixing hard work and imagination for the best results. This concept allows us to look at the "rough" solid wood floor fitting job as some kind of art and we are looking for followers, not just clients! Do you wonder why these methods transcend everyone else's approach? Because we spiritualise wood material… like, literary! Listen to the story of one of our recently fitted solid floor and you'll understand why we take bringing flooring back to life so seriously!
The story of our solid wood timber begins like the story of every being – it's born in the green and idyllic landscape of a forest nearby London where grass and trees are greener. As every beautiful lumber we have noticed this one and imagine great looking floor in cosy family house in London. Wormholes, scars, and stains come with every single piece of natural wood and they are great storytellers and food for imagination for the upcoming generation. Little imperfections like this make every solid floor one of a kind. Since we love unique wood so much, we see a great solid wood floor fitting project in timbers like this.
Since we've already chosen the perfect London home for this timber, our solid wood floor fitting service begins with a free estimate. To ensure the long life of our beloved wood, we leave the timber to acclimatise, because real wood is sensitive to humidity and environment and need some time to get used to its new home. While acclimatization, we want to be sure that the subfloor, which we lay above the solid installation is properly done. If not, our crew will clean and level subfloor if it is concrete. Concrete should be dry and even so the solid wood floor fitting service will work in properly and flooring adhesive won't react, leading to loose-fitting. If the subfloor isn't even we advise underlay, which creates a smooth surface and reduces sounds of footsteps. Solid wood can be also installed to existing timber by nailing.
As we already said, our timber has its own life, solid wood planks can "move" a little, affected by moisture levels and other reasons. By moving we mean that because of the character and specifies of real wood, timber can contract and expand. When fitting of the solid wood floor it's important expansion gaps around 15 mm should be left around walls to allow the movement.
The story of our beloved solid floor comes to an end. Flooring Services London guarantees long and solid life of every type of solid wood floor fitting. This is the case of our solid floor fitted in this London house we already tell you about. We love the happy end and our main goal is pleased clients for years and years. In that case, they lived happily ever after… If you want your little flooring story to end happily, contact us!
Served Areas
City of London, Westminster
Barking and Dagenham, Havering, Newham, Tower Hamlets
Hackney, Redbridge, Waltham Forest
Barnet, Enfield, Haringey, Islington
Bexley, Bromley, Greenwich, Lewisham, Southwark
Kingston upon Thames, Merton, Richmond upon Thames, Wandsworth
Ealing, Hammersmith and Fulham, Hillingdon, Hounslow, Kensington and Chelsea
Testimonials
An amazing job!! So happy with it. Really, really good. Thank you.