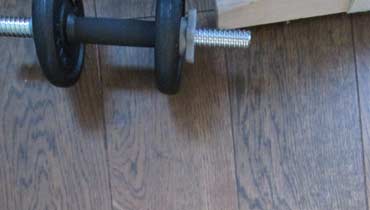 At Flooring Services London we have gained years of experience in London area in main wood flooring services such as sanding and sealing, repairs, maintenance. On another hand, soundproof floor installation is definitely not a thing everyone expect from us, mostly because clients don't guess it exists. And this process could improve your life visibly. Don't think that soundproof floor fitting is extra step and will consumes more time and more money. Our team of experts can create soundproof floor system without any hassle both before the installation of the new floor or during repairing process.
Our acoustic flooring products are the best London can offer and sound-proofing is managed to full perfection by our experienced and well trained experts. Soundproof floor fitting can help both new and existing buildings to improve and can make a significant impact to the level and direction of unwanted noise throughout the levels of every building, both domestic and commercial. Bye, bye, noisy neighbors!
Soundproofing process consist of application of sound-proofing underlay before flooring installation and can be laid under every type of flooring. Underlay can vary, here are your options. If you are trying to stop the noise of furniture being moved and footsteps, you need solutions to stop impact noise. For the sound traveling through levels of the building, coming from your neighbors, you need airborne noise sound-proofing. Flooring Services London will advise you the best solutions for your house or commercial project after free estimate in London.
Airborne sound is the noise transferring directly from a source to receiver, usually through small gaps, holes and opening in construction. Impact noise is structural vibration transferred from a point of impact through a structure. This is often caused by an item hitting the floor and creating vibrating noise.
We provide full soundproof floor installation service in London area. We offer free estimate for London and surrounding area for closer look and discuss with you the sound-proofing project. We offer solution for your situation, keeping in mind your needs, individual plan of the house, your budget. We deliver and install the acoustic system underlay in time that suits you. Finally, we create acoustic improved flooring without any noiselessly and we won't hinder your neighbors.
Beside soundproof solutions for walls and ceilings, creating soundproofed floors is our specialty. Acoustic underlays are most commonly used for both domestic and commercial projects in London. Underlays can be installed beneath any type of wood flooring and our experts are happy to help you with underlay choice, because there are certain factors that need to be taken into account in order to make the right choice. Keep in mind that the harder wood flooring is, the more noise it creates. Acoustic underlay mats can be installed over any type of existing flooring.
Floating floors are used to soundproof separating floors to comply with Part E Building Regulations and if possible, we often advise our clients to choose that type of flooring and provides wide variety of floating floors products in London.
Served Areas
City of London, Westminster
Barking and Dagenham, Havering, Newham, Tower Hamlets
Hackney, Redbridge, Waltham Forest
Barnet, Enfield, Haringey, Islington
Bexley, Bromley, Greenwich, Lewisham, Southwark
Kingston upon Thames, Merton, Richmond upon Thames, Wandsworth
Ealing, Hammersmith and Fulham, Hillingdon, Hounslow, Kensington and Chelsea