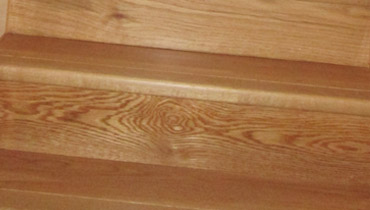 If you have recently experienced wood floor laying, you probably have heard about us, since Flooring Services London is on the top of the list of the best flooring services in London and surrounding area. It is about time to meet the other services we offer, because the fitting service is just the start. As an experts with long experience and rich portfolio, we can make your staircase project come true. No matter if you are tired from your old staircase flooring and you want something new and modern, or you've recently moved out in a brand you house and you need to take care of some details – we are here to help you in London and surrounding area.
Talking about details, staircase floor installation is definitely not the thing you would like to neglect. While London's interior is all about the stairway as a focal point, you definitely want perfect staircase fitting, which will welcome your guests warm and impress them. This procedure is as important for commercial projects, as it is for domestic use, because the shiny new and impressive stairway will be the first thing your visitors and client will see and now this is a sign of professionalism and high quality. They say, you can't change the first impression!
There are so many DIY how-to's staircase installation projects around Internet, but they tend to be misleading, since creating the perfect job is not that easy as laminate flooring or engineered wood flooring installation for example. You definitely want to bet on professionals from preparing stair's subfloor and cutting lumber to the fitting itself.
Firstly, we provide certain information and advices after free estimates all around the area. We will advise you what type of flooring is adequate for your stairs, depending on if they survive high traffic, keeping in mind wood flooring in the other rooms and starting with stairway preparation if needed. Just like it goes with flooring, stairs should be laid onto sturdy subfloor. Concrete should be dry, levelled and smooth, wooden base should be sanded and repaired if there are any loose or damaged planks, nails heads should be hammered down for even surface.
Then, when the base is ready, we start with the fitting procedure. The proper cut of the wooden material, no matter if laminate, hardwood or engineered wood is essential, since when perfectly done it will save you possible costs of local replacement and upcoming repair. Definitely not an easy task, which requires expert skills and tools and our team is happy to offer that to you.
No matter the style of staircase you desire, open-styled or not, our crew will help you to create the perfect treads, risers and balustrade in amazing composition, which will excite you. Contact us on 020 70360625 or info@flooringservices.london.
Served Areas
City of London, Westminster
Barking and Dagenham, Havering, Newham, Tower Hamlets
Hackney, Redbridge, Waltham Forest
Barnet, Enfield, Haringey, Islington
Bexley, Bromley, Greenwich, Lewisham, Southwark
Kingston upon Thames, Merton, Richmond upon Thames, Wandsworth
Ealing, Hammersmith and Fulham, Hillingdon, Hounslow, Kensington and Chelsea