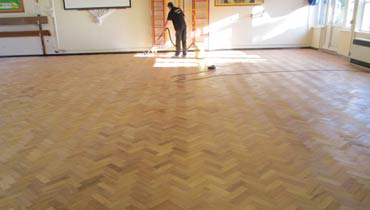 Cleaning your hardwood floor at home may look like an easy task and it surely is way more easier than cleaning the wooden floors in commercial areas. Commercial flooring is affected by way more high traffic and aggressive environment, which leads to quicker wear and tear and discoloration. However, you want your commercial flooring in London perfect looking, because often it may refer to professionalism and works like your business card for new clients. Flooring Services London offers high quality commercial floor cleaning service which will provide shiny new and fresh floors, when your cleaning crew job is just not enough.
Even if you have hardworking cleaning crew, everyday mopping and vacuuming can't get rid of deeply layered dirt and fine dust in the pores of the wood. Our cleaning system reaches every single dust particle. Commercial floor cleaning process consist of precise vacuuming with heavy duty equipment to remove any loose dirt and debris and double auto scrubbing. Our cleaning experts won't use just any type of universal floor cleaner on the London market. We always comply with the type of wood flooring and the finish and use high quality products, which will clean the flooring to shine, without causing any damages and penetrating through the gaps of the protective layer.
After all, we use neutral cleaner to return floor's natural shine. Since there are many corners and inaccessible parts of the flooring in wide commercial areas, our workers will scrub by hand if needed and remove stubborn stains. The same goes with stair commercial cleaning. A professional commercial wood floor cleaning is necessary to prevent wearing down the finish of the flooring, caused by dirt and dust. Everyday cleaning with broom and mop only moves the dirt around and can't rich to deeply layered, ground-in dirt. You can always call our customer support to book a free estimate in London area and for further information on proper maintenance.
If you work on a certain budged, it doesn't mean you have to neglect the commercial cleaning services. Our service is completely budget friendly plus, it's a great investment in your flooring. The well-kept and clean flooring doesn't need more expensive services like sanding and repair that often. The proper maintain replaces refinishing and sanding for longer and keep the flooring in good and representative condition. When properly done, commercial floor cleaning will provide beauty, durability and environmental responsibility and we offer all that as an economical solution in London and surrounding areas. Don't forget, that we can comply with your working schedule and do our job quick, effective and without any hassle.
Improper cleaning products are one of the main causers of commercial wood flooring destruction. Keep in mind, that water, abrasive products and harsh chemicals are your flooring enemy. Instead, we provide non-toxic and low-VOC products, which are safe for your flooring and everyone above it.
Served Areas
City of London, Westminster
Barking and Dagenham, Havering, Newham, Tower Hamlets
Hackney, Redbridge, Waltham Forest
Barnet, Enfield, Haringey, Islington
Bexley, Bromley, Greenwich, Lewisham, Southwark
Kingston upon Thames, Merton, Richmond upon Thames, Wandsworth
Ealing, Hammersmith and Fulham, Hillingdon, Hounslow, Kensington and Chelsea