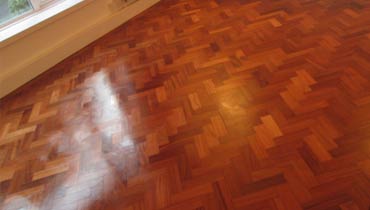 Wood floor waxing is a maintenance process, which adds an attractive and beautiful shine to real wood floors and creates a protective, scratch-resistant layer on the surface. However, even if high-quality floor waxing products used, over time the protective layer will still wears off, get dirty and scratched and the floor will be in need of a fresh new floor waxing service. Flooring Services London provides a great floor waxing and re-waxing services in London and surrounding areas. There are different methods of floor waxing available for different types of real wood flooring and different floor waxing products available on the international market. Depending on your flooring and its condition, we will advise you the best floor waxing method and deliver a high-quality, hassle-free floor waxing performance. Overall, floor waxing is a great way for preserving wood flooring for many decades. The biggest advantage of the floor waxing treatment is the additional protection and preservation of the wood's colour and texture that improve the floor's durability, stability, functionality.
How Is Floor Waxing Service Delivered?
There are some projects when prior to floor waxing the old top layer of wax should be stripped off first. Floor stripping is a precise job better done by professionals. We can choose the right finish stripping product prior to floor waxing and remove the build-up of worn wax and dirt on top of your wooden floor while achieving perfect results and preparing the floor's surface for floor waxing. Make sure to contact us for the floor waxing project you are planning in London. Before removing the top layer, the floor must be cleaned and vacuumed thoroughly. Next, we apply the floor finish stripper evenly. The product is a powerful solvent that can penetrate through gaps and cracks and damage bare wood. Therefore, removing the old and worn wax layer and the upcoming floor waxing should always be left in the reliable hands of experienced professionals. Sometimes scrubbing by hand is needed where there is more wax build-up. If necessary, the wax stripping process can be repeated.
Right after the wax top layer is stripped off the floor's surface is ready for floor waxing. The process of floor waxing adds a beautiful lustre and shine to the surface of the floor. In addition, it is beneficial for improving the durability, long-lasting, and hard-wearing power of the floor. We will advise you on what type of wax to choose, depending on the initial product used or if your floor has never be waxed. Next, we will perform floor waxing until we achieve an even and smooth surface and a uniform application. Wax is not an easy product to work with and can build up easily. If the top layer turns out too thick after floor waxing, the whole process of stripping off and application of wax must be repeated. Some types of waxes need additional buffing for a glossy finish. Therefore, floor waxing should not be attempted as a DIY project. We highly recommend you leaving floor waxing to the knowledgeable and experienced professionals of our floor waxing team.
Floor Waxing Products Explained
There are several different products for floor waxing on the London market you can choose from. For a high lustre finish and best results that don't require intense maintenance every now and then, you need something more professional than your local store wax paste. Depending on the desired finish and level of protection, there are several different products available for professional floor waxing. You can choose from high shine to matt and everything in between for your floor waxing project. Another type of products are the moisture-based waxes that are heavy-duty and always recommended to be applied by experienced floor waxing professionals. This type of products are super long-lasting and provide hard-wearing protection against scuffs, scratches, dents, and marks. Such floor waxing products are recommended for commercial floors and domestic ones that get a lot of high traffic.
Keep in mind that your floor will need a maintenance treatment every 6 to 12 months. It may look like too much hassle, but floor waxing definitely worth it because of the beautiful finish and additional durability floor waxing guarantees. You can always contact us on 0800 0434359 or 020 88309782 or info@flooringservices.london to book a free floor inspection.
Served Areas
City of London, Westminster
Barking and Dagenham, Havering, Newham, Tower Hamlets
Hackney, Redbridge, Waltham Forest
Barnet, Enfield, Haringey, Islington
Bexley, Bromley, Greenwich, Lewisham, Southwark
Kingston upon Thames, Merton, Richmond upon Thames, Wandsworth
Ealing, Hammersmith and Fulham, Hillingdon, Hounslow, Kensington and Chelsea