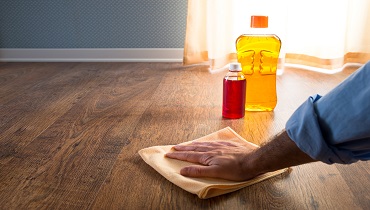 Cleaning wood floors is part of my job as I work for Flooring Services London for a few years now. For so many years I've seen so many destroyed floors in London area due to wrong floor cleaning and maintenance, if only they could cry out their stories! Well, crying is not a good idea, because flooring with lacquer or varnish top layer or unfinished doesn't take water very well. These kind of finishes are not as resistant to moisture and spills, so damp mopping is a big no no! Can you see how important is to know what kind of finish your flooring has for proper cleaning? If you need expert advice and further maintenance in London town, contact us and we will help you!
Let me tell you, I love my job and I love helping people. But being professional in some working sphere can be a curse sometimes, because I see cleaning issues everywhere. I guess this is the price of being well-trained and hard worker. You can't imagine how many people can't deal properly with their flooring nowadays and I can tell why. So much information online, so many products on the market can easily confuse you. And that is what our job in London consist of – providing expert information for best results. Here are five common mistakes about the and how to deal with them.
Monday morning. The neighbor above my apartment have surface-sealed floor and just finished painting their walls. Someone told them they can remove the stains from floor's surface with vinegar. That method is actually really popular, but can easily destroy flooring finish. Another wood floor enemy is water, so rather use damp mop than soaking wet one. I don't recommend using oils or furniture sprays, because they make floor slippery like an ice-skating rink and make re-coating difficult. The best alternative for my neighbors is pH-neutral products, they are aggressive to the stains, but delicate to wood flooring.
Tuesday afternoon. It's time for my London neighbors under for some floor cleaning. They have lacquered finish (penetrating-seal floor). Everyday cleaning consist of vacuuming only, since mopping isn't recommended. Don't use acrylic or water-based waxes. For further maintenance better use liquid or paste wax designed for wood floors. However, they can leave thinner coat, but we can remove old wax buildup easily.
Friday morning. There was party last night at my neighbors from left. I am pretty much sure there are a lot of dried spills and London broil with sauce stains on the flooring surface and floor cleaning is imperative. Spills and stains are better to be removed immediately, since they are hard to remove when dry. For better results you should wipe with damp cloth, rub dry and then wax.
Saturday evening. Neighbors right to my apartment just have seen off their guests. Well high heels marks won't wipe off that easily. They need a small amount of wax to treat finely scratched areas. Don't forget, dry heat wood cleaning during Winter can cause scratches to crack, because the wood shrinks.
Served Areas
City of London, Westminster
Barking and Dagenham, Havering, Newham, Tower Hamlets
Hackney, Redbridge, Waltham Forest
Barnet, Enfield, Haringey, Islington
Bexley, Bromley, Greenwich, Lewisham, Southwark
Kingston upon Thames, Merton, Richmond upon Thames, Wandsworth
Ealing, Hammersmith and Fulham, Hillingdon, Hounslow, Kensington and Chelsea